Memory Café for those living with Dementia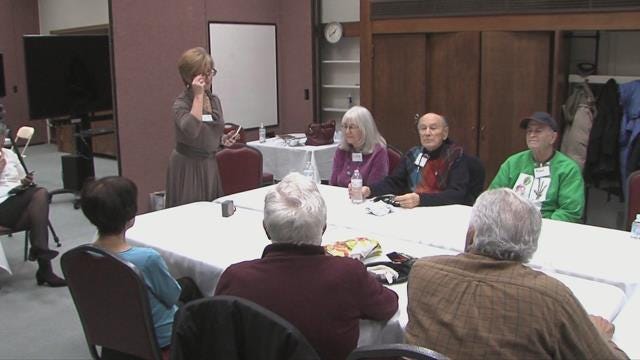 PROVIDENCE, R.I. (WLNE) – At 93 years old Jack Indeck has some amazing memories but he admits most of them are fading.
"A lot of memories, but I'm forgetting most of them lately," Indeck said.
But the one memory he hasn't forgot was the day he met his wife 70 years ago.
"I can picture her with her long red hair, walking towards me and my boat," Indeck recalled.
Indeck and his two adult children come to the Memory Café inside Temple Beth El in Providence once a month to make sure the memories Indeck still has, don't slip away.
"We are getting people out of their homes, away from isolation, getting them engaged, and just having fun," Memory Cafe Organizer Laurie Mantz said.
Mantz brought the Memory Café concept from the Netherlands to Rhode Island a year and a half ago.
There's now 9 across the state giving those living with Dementia, and their caregivers, a place to socialize, laugh, and even dance.
But it's not just a meeting of the minds. It's a chance for caregivers like Ruthie Indeck to get out of the house and talk with others dealing with the same issues.
"There's no stigma, you don't go there and are labeled as someone who forgets things," Ruthie said.
Indeck and his family have been comin to Memory Café in Providence for about six months and today he still has his most meaningful memory of all, his wife.
"She was the most wonderful person I have met in my life," Indeck said.
The Cafés are free and open to the public. They're held in coffee shops, hospitals, libraries, and churches all across the state.