Middlebrooks Homers Twice But PawSox Drop Third Straight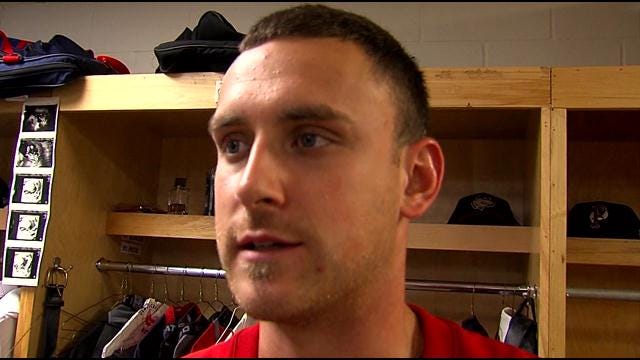 Ken Bell
PawSox news release…
PAWTUCKET, R.I. — On the last day of June, the Pawtucket Red Sox encountered a first.
The PawSox fell to the Scranton-Wilkes Barre RailRiders, 9-6, Sunday in
front of 8,460 at McCoy Stadium and have now lost three straight games
for the first time this season.
Scranton-Wilkes Barre, which had 18 hits and 12 runs, including four
homers, in Saturday's series opener, followed it up with a dozen knocks
in Sunday's matinee. Included were four more home runs.
In fact, the tone was set by journeyman center fielder Corey Patterson,
playing in his second week with the New York Yankees organization.
Patterson hit Brandon Workman's fourth pitch out to right field for his
first homer as a RailRider.
Soon thereafter, though, Will Middlebrooks answered with a two-run blast
to left, giving him three HR in his first 35 at-bats with Pawtucket and
providing the PawSox a 2-1 lead.
The counter-punching continued in the third inning, when Randy Ruiz
hammered another big fly, following Patterson's double to put SWB ahead,
3-2.
That narrow lead lasted only as long as two outs in the bottom of the
third, thanks to two walks by RailRider starter Jose Ramirez and a
two-run throwing error by third baseman Josh Bell.
But trailing 4-3, Bell, making his Scranton-Wilkes Barre debut, atoned
with a first-pitch homer off Workman in the fourth. Two pitches later,
Addison Maruszak went back-to-back for a 5-4 edge. The Riders scored
another run on a throwing error by Pawtucket
catcher Alberto Rosario.
Middle relievers for both clubs restored order, at least until the bottom of the seventh.
With a 6-4 lead, lefty Mike Zaguski walked Alex Hassan with two down,
before surrendering Middlebrooks' second home run, a towering drive to
dead center.
Even at 6-6, SWB mounted an immediate threat in the eighth against Pedro
Beato (L, 5-2) with a walk and single. Chris Martin entered in relief
and after Bobby Wilson was unable to bunt the runners over, he flared a
double inside the right-field line to break
the 6-6 tie. Walter Ibarra then delivered a two-run double to cap the
scoring.
The PawSox loaded the bases in the eighth, but an outstanding sliding
catch by left fielder Thomas Neal in support of Zaguski (W, 3-1) helped
preserve the difference. Jim Miller (S, 4) struck out the side in the
bottom of the ninth.
The last three games, the Sox allowed a total of 31 runs. At 50-32,
they lead the International League North by 6 1/2 games over
second-place Lehigh Valley.
Pawtucket is 3-3 on its season-long nine-game homestand, which continues
Monday at 6:15 p.m. with the first of three consecutive Fireworks
Nights. Knuckleballer Steven Wright (3-5, 4.64) faces left-hander David
Huff (3-3, 3.74).