Middlebrooks Homers Twice, Drives in 8 For PawSox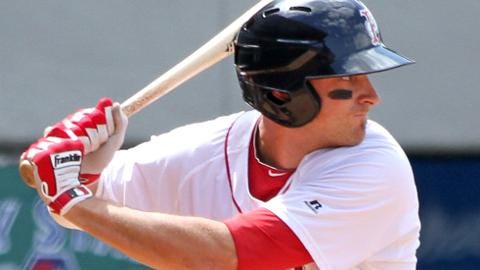 PawSox Release
PAWTUCKET, R.I.
– Will Middlebrooks
powered a pair of homers, including a three-run shot and a grand slam,
and matched a franchise record with eight RBI in the PawSox 11-5 win
over Scranton/Wilkes-Barre in front of a crowd of 10,929.
The PawSox wasted little time getting on the scoreboard in the 1st inning Wednesday night.
Jackie Bradley Jr. doubled on the first pitch of the frame and scored on an RBI double by Alex Hassan to grab a 1-0 lead.
Pawtucket starter Alfredo Aceves allowed just one hit through the first two innings, but ran into trouble in the 3rd.
After issuing a lead-off walk, Addison Maruszak hit a fly ball to
right center field that dropped between Bryce Brentz and Bradley Jr.
after a miscommunication. With men on at 2nd and 3rd
with no outs, Aceves induced two ground
outs and keeping runners at bay. Fernando Martinez then battled with
two strikes before lacing a two-run double to right field to grab a 2-1
advantage for the RailRiders.
The PawSox responded in the bottom half of the 3rd
as Bradley Jr. walked and Hassan singled. Mark Hamilton bounced into a
fielder's
choice before Will Middlebrooks doubled to right center to tie the game
2-2. The Sox would load the bases after Xander Bogaerts walked, but
would strand the bases loaded to keep the score even through three
innings.
In the 4th,
Scranton/Wilkes-Barre regained the lead on the first pitch as Dan
Johnson lifted a solo homer to right. After a double
by Brent Lillibridge, Aceves retired the next two in order, but allowed
a two-out RBI to Maruszak to hold a 4-2 lead over Pawtucket.
Alberto Rosario led off the 4th
with a single and moved to third on a single by Brock Holt. After
Bradley Jr. flied to shallow
left, Alex Hassan then bounced a ball to third that could have ended
the frame with a double play, but the return throw to first went past
the first baseman allowing Rosario to score to make it 4-3. Mark
Hamilton followed with a single before Middlebrooks
blasted a three-run homer, his 5th, to give the Sox a 6-4 lead.
Aceves allowed a solo homer to start the 5th to JR Murphy, but worked through trouble to keep a one run lead.
The Sox would put the game out of reach in the 5th.
Brock Holt reached on an error with one out and stood there with two
down.
Back-to-back walks led to starter Caleb Cotham being removed from the
game. Kelvin Perez was brought in to face Middlebrooks and the DH made
the 'Riders pay as he launched a grand slam, his 2nd homer of the game and 6th on the season
to swell the lead to 10-5. Middlebrooks had eight RBI on the game as the 5th came to a close.
After two scoreless innings from All-Star Anthony Carter on the mound, Jackie Bradley Jr. added a solo shot, his 7th and 3rd
in two days, in the 7th inning to extend the PawSox lead to 11-5.

Chris
Martin and Jose De La Torre each added scoreless frames to put the lid
on an 11-5 win and a homestand that saw the PawSox go 5-4.
The PawSox will hit the road for a seven day, eight game road trip against North Division foes Rochester and Lehigh Valley.
The Red Wings will be on tap
first for a four game set through the holiday weekend. Pawtucket will
send lefty Chris Hernandez (3-3) to the mound against Pedro Hernandez
(1-2) of Rochester tomorrow night at 7:05pm.
Pawtucket
will return to McCoy Stadium for a four game homestand prior to the
All-Star Break against Rochester beginning Thursday, July 11th
at 7:05pm through Sunday July 14th.