Middletown High school student looks to help fellow entrepreneurs in third world countries
After the launch of his first successful pop-up shop, student finds a way to help aspiring entrepreneurs following in his footsteps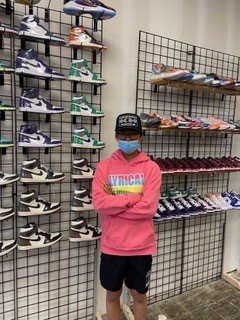 MIDDLETOWN, RI (WLNE) – Following the success of his first streetwear and sneaker pop-up shop named AGORA, Jee Holden, is now hoping to help fellow young entrepreneurs in third world countries.
Holden, a Middletown Highschool student, is hoping to pass on his success to young entrepreneurs in places like Haiti, Honduras, and Sierra Leone.
His plan is to collect donations of new or gently used sneakers and shoes at his upcoming pop-up event this weekend which will start Thanksgiving night.
The pop-up location is at 181 Bellevue Ave in Newport.
The hours:
Thanksgiving Night  from 8 p.m. – Midnight
Black Friday-  9 a.m. – 3 p.m.
Saturday and Sunday- 12 p.m. – 7 p.m.
The shoes will be donated to the organization "Soles4Souls."
"I chose this organization because my mother's friend told me about it," Holden said. "They collect shoes/sneakers to be distributed to entrepreneurs in struggling communities that will resell these items- just like me."   
All customers that bring in sneakers/shoes on Saturday or Sunday will be given a $10 discount on their purchase. 
 Jee promises that this event will be bigger than the first one. 
"We will have almost twice as much inventory with a wider variety of sizes and products." 
Holden says there will also be a wider range of price points with clothing starting at $50 and sneakers starting at $100. 
Brands featured include Supreme, Yeezy's, Bape, and many more including highly sought after and limited edition items.
There will be Black Friday Deals all weekend long and giveaways to the first ten customers on Thanksgiving night. 
They will also be selling $10 raffle tickets for an opportunity to win the latest play station console. 
 For more information visit him on Instagram @agoranpt or @plugofri.