Midnight Basketball League kicks off in Providence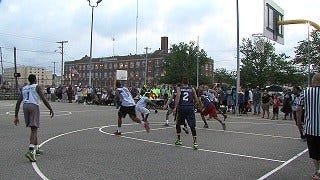 Providence's Midnight Basketball League kicked off Tuesday night.
We're told around 350 players 18 and up and about 150 volunteers signed up to be a part of the newly reinstated league.
Games will be held at four city locations twice a week through August.
The idea behind the games is to promote relations between police and community members, to cut down on violence and to provide opportunities for city residents.
"It's a wonderful idea. Keep kids off the streets, keep the violence down. It's a start," said player Eric Hamlin.
The first games of the season happening after a particularly violent weekend in the Capital City including two shootings one of which left a man dead.
"It's pretty bad when you hear you know a lot of people you know getting shot or dying or getting locked up and things like that so it's pretty bad out here," said player Waldo Alvarado. When asked if he thinks the games will help decrease crime, this is what Alvarado had to say, "I hope so. I can't foretell the future or anything like that but I sure hope it does help that relationship between cops and the community."
Mayor Jorge Elorza as well as local law enforcement officials all gathered together at Bucklin Park before the first game.
State and local police will be attending the games throughout the summer.
"Some people they don't know each other they live around the block. Basketball is where we all get together and we all join and basically become a family. It's how you build friendships," said Marquis Jones.
(C) WLNE 2015