Midnight basketball returns to Providence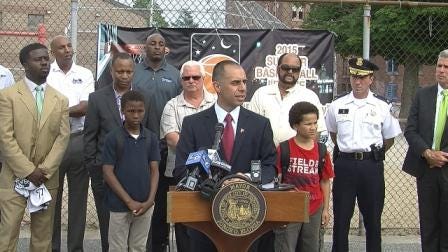 By Matt Blanchette
mblanchette@abc6.com
@mattblanchette
It was a violent weekend in the capitol city.

Providence's sixth murder was discovered on Monday in the Olneyville section. It was followed by three different reports of shots fired overnight.
Police say as the weather warms there is an up tick in violence. In part because of the recent violence, Mayor Jorge Elorza is looking for ways to stop this type of behavior.
Elorza, the Providence police and community leaders announced the resurrection of a midnight basketball league in four parks across the city.
The goal of the league is to get people off the streets.

"And this is a way for us to bring folks in and say this is available, this is here specifically for you," Elorza said. "Come and be a part of this. Come and be a part of a community that's forming."
This comes during a time of heightened period of violence in the city. 25-year-old Arturo Padilla was found murdered in a parking lot on Plainfield street Monday.
Overnight Monday a person was shot outside the station one convenience store on Manton Avenue. Later shots were fired on Hathaway street and a separate round of shots still later on the 400 block of Charles street.
"You know there is no rhyme or reason sometimes, but certainly with the warmer weather we see all of our activity increase," Providence Police Chief Hugh Clements said.
While basketball players are sure to join the league, it's the non–players organizers are looking for.
"That's what this league is for. We are targeting that kid," community activist Kobi Dennis said. "We are targeting the 18 plus youth that would be just hanging around and with an idle mind we all know what happens with that. So we want that young person. This is more than basketball."
(C) WLNE-TV 2015