Mike Sepe announces mayoral campaign in Cranston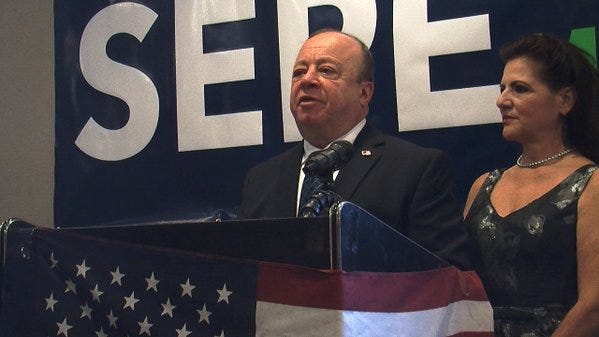 By Bianca Buono
@BiancaBuono
Two months after a no confidence vote against Cranston Mayor Allan Fung by the city council, a familiar face in the city is officially throwing his hat in the ring for the city's top job.
"I will give you open, accountable, honest and transparent government that you so deserve," said Mike Sepe.
Transparency was a word Cranston's Democratic Party Chairman Mike Sepe emphasized over and over while he officially kicked off his campaign to take on incumbent mayor Allan Fung.
"It's going to be a long, grueling campaign but I think we're going to be very successful," said Sepe.
Among the dozens in attendance was Rhode Island House Speaker Nick Mattiello. He is officially backing Sepe's campaign.
"We're here to move along, endorse a mayoral candidate that I think has the judgment, intent, right goals to move this city in the right direction," said Mattiello.
Fung is under scrutiny after a scathing state police report was released showing he interfered with the city's police business. Sepe listed the police department as his top priority.
"What I'd like to tackle is a stable police department number one," Sepe said.
Sepe also emphasized well-maintained roads, including making sure they're plowed. He also discussed protecting Cranston's elderly population.
"We're going to have a lot of transparency and accountability in the mayor's office because we need to have Cranston's reputation restored," says Rep. Charlene Lima.
Fung has held the office since 2009. Calls to his office were not returned. Fung has not said if he plans on running again.
The election is set for next November.
© WLNE-TV 2015