Mini horse shot in leg recovering after surgery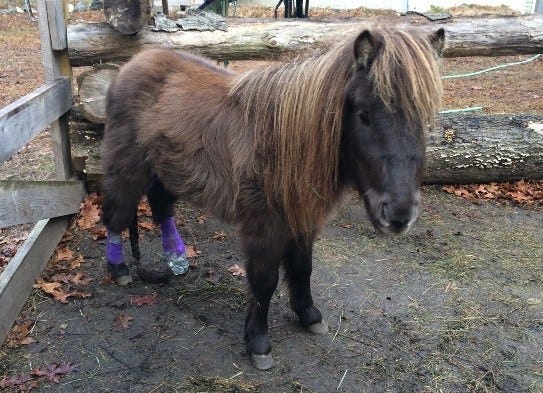 By News Staff
Reporting by Kirsten Glavin
kglavin@abc6.com
A mini horse shot in the leg in Acushnet earlier this month is now getting the medical attention it needs thanks to the support and donations from people, not just locally, but around the world.
Max the mini horse is in recovery Thursday night at a clinic in New Hampshire. His owner is calling it a Christmas miracle.
"He's a tough little pony," says owner, Julie Nightliner.
Max is recovering after the surgery that may have saved his life.
"Doctor Myhre went in there, took out the bullet fragments, took out the dead skin, fractured and broken bones, and tried to really clean it up, and then injected the stem cells," says Nightliner.
The company, Omnicell, also donated stem cells to help re-grow and repair Max's hoof. If that doesn't work, in another month he may need a prosthetic leg.
"We don't know where the stem cells are specifically going, or if they will work, so that will take a whole month to find out," says Nightliner.
Max was shot in the hoof earlier this month and the person responsible was never found. The story went viral, and thanks to the support of hundreds of people, and nearly 14 thousand dollars in donations, Max got a second chance.
"All the support and donations and everything that has come out of it is just amazing," adds Nightliner, calling the widespread generosity a Christmas miracle.
Cole, a 5-year-old boy from Dartmouth donated all of his savings and some carrots after learning about Max's story.
Nightliner hopes the support continues as Max begins to heal.
TO DONATE –> https://www.gofundme.com/tcdnw75e
© WLNE-TV 2015