Miss Universe surprises RI students at alma mater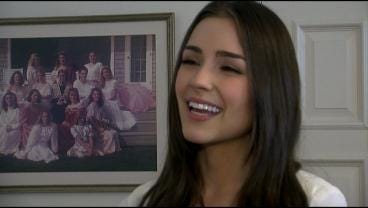 By Abbey Niezgoda
Rhode Island's own Olivia Culpo, hot off a trip from Russia, did not let the snow get in the way of getting back to her roots Thursday.
Miss Universe was supposed to talk to students at her alma mater, Bay View Academy, via Skype, but she surprised them with much more than that.
While chatting with students on screen, all of the sudden, the connection dropped and the screen went black. As the crowd waited for it to be fixed, Miss Universe herself walked onto the stage.
As the students cheered, the 20-year-old from Cranston offered advice.
"You learn so much from one another and you're able to take so much from one another," Culpo said.
"Her wisdom at the age of 20 is remarkable," Bay View Principal Colleen Gribbin said.
Culpo just got back from Russia and will head to Chicago on Friday before then jetting off to Hong Kong. She says above it all, her favorite place to be, is home.
"Even for 12 hours, just being in Rhode Island, I learn everything that I forget when I'm traveling, which is just where you come from."
Video in this report courtesy: Emily Croke.