Miss USA opens up at RI alma mater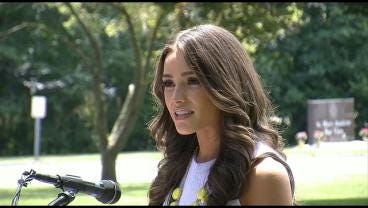 By Abbey Niezgoda
Rhode Island's own Miss USA has been making her way across the state, but she took a trip back to school Thursday to let the students in on some pageant tales.
On the lawn of her alma mater, Olivia Culpo's speech was not so much about the winning, as it was about the obstacles of getting there, starting with the time she sat in chocolate in her white interview dress.
"They looked at me like I was crazy," Culpo said. "I'm sitting there with a blow dryer and some wet naps trying to get out this stain."
Then there was a spray tan mishap the night before Miss USA.
"Everybody, do not go through the rain with a spray tan," Culpo said. "I went through the rain and I looked like a zebra!"
Between the zebra lines, there is an underlying message.
"Things like that will happen, but I just want you all to know that even with the bumps in the road, just be yourself."
Culpo is no doubt relatable, and also a role model to the young girls at Bay View.
"If I follow my heart, then I can be just like her," Bay View student Alexandra Coppa said.
She also inspired a few young boys to propose to her at the Bristol Parade. They came to Bay View just to get Miss USA to sign a picture of it.
She jokingly said yes to the proposal, but admits she does not have time for engagements when the next stop is Miss Universe.
"Wouldn't that be amazing? I mean I'm hoping I can do as well as I can and represent not only the nation but also Rhode Island."