Mitchell wants Whaling City to become Sailing City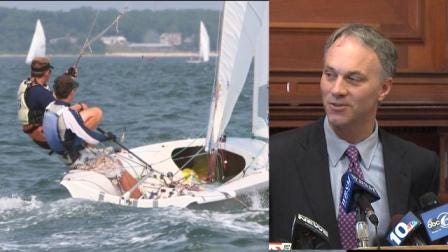 By Matt Blanchette
@mattblanchette
If Boston does wins its Olympic bid for 2024 the south coast city of New Bedford wants to be in on it.
Mayor Jon Mitchell announced the city would like to host the sailing events for the 2024 games. Many think of New Bedford as a fishing city, and rightfully so, but Mayor Mitchell says not only is New Bedford the perfect spot for sailing, but it's the best place to sail in the country.
Flanked by sailors, commodores and an executive from US Sailing., the mayor proclaimed New Bedford as the best spot to host the sport of sailing.
"We are confident that New Bedford will strengthen Boston's bid for the Olympic games," Mitchell said.
Mitchell lists strong winds, warm waters, accessibility and an urban area as major factors that separate the south coast from other locations.
It is difficult to picture sailing after the winter New England has had, but one of the most impressive things they say about Fort Taber in New Bedford, for the sailing event, is that it has a 360 degree view of the bay for spectators.
Best part is, Mitchell says it would not cost the city any money. "We don't need to build a stadium, the stadium is the water of Buzzard's Bay," Mitchell said.
Jack Gierhart of US Sailing agreed that New Bedford would make a fine host, but not just in the summer of 2024.
"It's not just a 14 day event. its more like a 3 year event. Teams come in and train for multiple years in advance of the games," Gierhart said.
Ultimately Mitchell see this opportunity as a chance for long term economic growth.
"We are a city that is trying to boost its economy in ever sector, including in tourism, and having the Olympics here would be a really big shot in the arm."