Mitt Romney Endorses Allan Fung for RI Governor; Talk of Ebola Concerns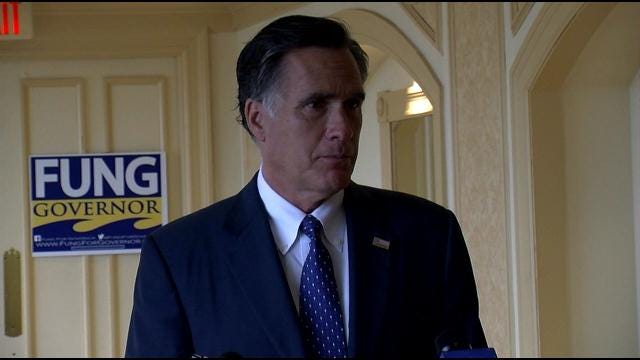 Twitter: @markcurtisABC6
Republican Cranston Mayor Allan Fung receiving one of his biggest endorsements yet from former presidential nominee and Massachusetts Governor Mitt Romney.
He says Fung can fix Rhode island's economy.
"So that small businesses are able to grow and thrive; and so that people who have jobs here can have higher wages; and so that people who are worried about getting jobs here can find them," Romney said.
"Making sure that we have the right message out there to turn our state around. You know he's done a lot of that in Massachusetts and we're going to do that in Rhode Island," said Mayor Allan Fung, (R) Nominee for Rhode Island Governor.
Romney made his Fung endorsement before 200 supporters at a private Biltmore Hotel fundraiser.
Hillary Clinton comes here next week, to endorse Democrat Gina Raimondo.
ABC6 Chief Political Reporter Mark Curtis said, "Now Gina Raimondo has received something of a mixed bag of endorsements. The heads of the AFL–CIO and Teacher's Union in Rhode Island have personally endorsed her, but the rank and file of those unions has not."
Meantime dealing with the Ebola crisis has also entered the campaign.
Mitt Romney for stopping flights between West Africa and the U.S.
"Yes, my view is that a travel ban should be put in place," said Romney.
But Allan Fung says more information is needed.
"We have to consider all options depending on what's going to happen. But that information is going to have to come from a combination of the CDC and coordination with all the different state health officials," Fung said.
The issue is critical with Rhode Island having the largest percentage of Liberians living in the U.S.