Mix Early, Change to Rain By Morning
A Chance of Snow Thursday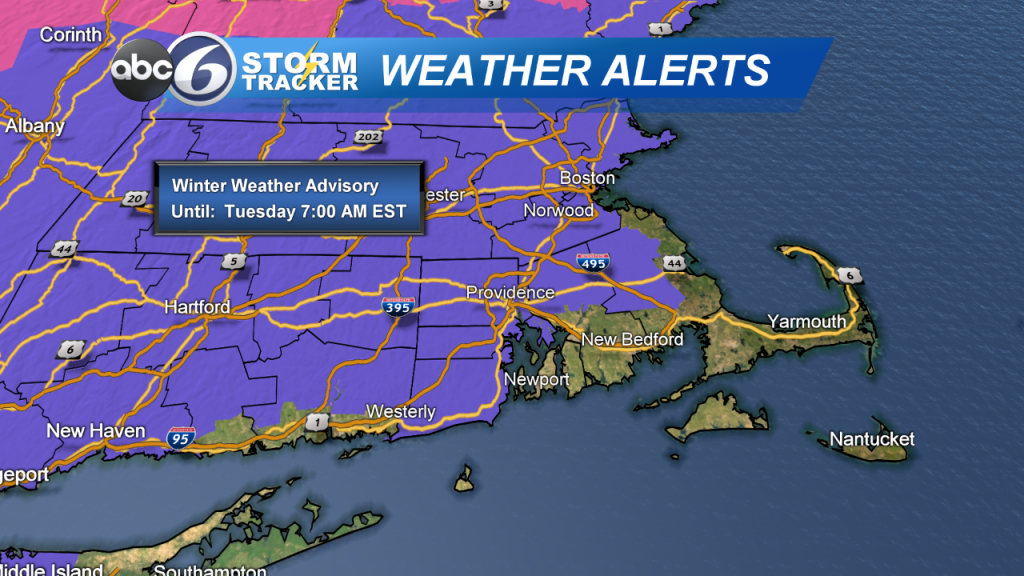 Light rain, light freezing rain and some sleet will change to all rain by morning. Temps will slowly rise by morning, 30s to low 40s by 7 A.M. The exception, Northwest R.I. where temps will only rise to the mid to upper 30s, icy conditions linger through 5 A.M.
Tuesday, rain and even some thunder. Rain will be heavy at times early morning. Temps well into the 40s with even a few low 50s. Rain will taper off by early afternoon, cloudy for the evening commute. Tuesday night, clearing and colder. Low to mid 20s.
Wednesday, sunny and cold. Low to mid 30s. Wednesday night, increasing clouds. Around 20°.
Thursday, snow likely for the afternoon. Slick and snowy conditions expected. Low 30s. Thursday night, snow will change to a wintry mix and then to all rain by Friday morning. Steady temps in the low to mid 30s.
Friday, rain. Near 40°. Friday night, clearing. Around 20°.
Saturday and Sunday, sunny and cold. Low to mid 30s during the day. Around 20° at night.
Monday, scattered rain showers. Around 40°.
ABC6 Chief Meteorologist, Jeff Desnoyers
Email: jdesnoyers@abc6.com