Mobile market brings produce to low-income residents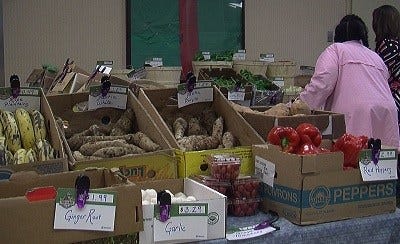 By Alana Cerrone
acerrone@abc6.com
@Alana_Cerrone
Here in Rhode Island,1 in 7 families struggles with what's known as food insecurity, meaning those families don't know when their next healthy meal might be. A new program may change that.
These days, it's easy for Carlos Martinez to shop around for his favorite fruits and veggies.
And thanks to a federal grant,1 of his SNAP dollars is actually worth 2 here at this market.
"Nectarines…apples…plums…anything I want I find here in this market"
He and his family frequent this mobile produce market that comes right to his Providence community.
It's part of a new program called Food on the Move Rhode Island', a partnership supported by organizations including the RI Public Health Institute, Brown University, and Senator Jack Reed. It aims to address health concerns amongst low-income residents.
Dr. Amy Nunn, Executive Director of the Rhode Island Public Health Institute, says, "A lot of people who experience food insecurity…are obese."
Mobile produce markets make it easy to buy fruits and veggies like these by bringing them right to the neighborhoods where they're otherwise hard to find.
The mobile market travels to two locations every day.
That makes all the difference for Carlos and his family.
"I used to have to spend my time getting to the bus…carrying heavy shopping bags from the supermarket…but now…we have the market right here…my kids get excited…my grandkids get excited."
The plan is that access to affordable, healthy food…means a healthier population. And over time…an overall decrease in healthcare costs.
If this program is successful, it could become a model for other states.
(C) WLNE-TV 2015