Molloy Scores Four Goals On Senior Day, Brown Men's Lacrosse Beats Cornell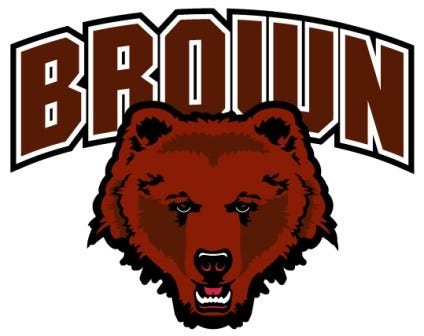 Brown University Press Release
Providence, R.I. – Senior All-American attackman Dylan Molloy (Setauket, NY) scored four goals and handed out three assists, and freshman goalie Phil Goss (San Francisco, CA) made 10 of his 14 saves in the second half, to lead Brown to a 13-10 Ivy League win over Cornell Saturday afternoon at Stevenson-Pincince Field.
The win lifts Brown to 7-5 overall, 3-2 in the Ivy League, and assures the Bears a berth in the upcoming Ivy League Tournament, starting May 5 at Yale. Cornell falls to 4-8 overall, 2-3 in Ivy play.
With four goals this afternoon, Molloy moved into a tie for fifth place in all-time NCAA Division I scoring with 191 career goals, equaling the mark by Cornell's Mike French from 1974-76. Molloy also ranks seventh in NCAA history with 310 career points, just six points short of Brown's all-time scoring record of 316 points by Darren Lowe from 1989-1992.
Molloy, the 2016 Tewaaraton Award winner, also has the nation's longest consecutive game scoring streak, now 37 straight games dating back to April 4, 2014.
Freshman Luke McCaleb (Chevy Chase, MD) also had a big day for the Bears with three goals, while junior Stephen Hudak (Rydal, PA) and sophomore Michael Panepinto (Needham, MA) added two goals each.
Goss, the nation's leader in saves per game, got going when the Bears needed him most with seven of his 14 saves in the fourth quarter alone to turn aside several Big Red challenges.
Bears' senior LSM Larken Kemp (Greenwich, CT) wreaked havoc throughout the game with four caused turnovers and four ground balls. He now has 112 career caused turnovers, seventh best in NCAA history.
Junior Ted Ottens (Wilton, CT) dominated the face-off x for Brown, capturing 21-of-26 face-offs, including all 15 in the opening half. He also scored his seventh goal of the season.
Freshman Jeff Teat led the Big Red with three goals and three assists, while Jordan Dowiak added two goals.
The Bears trailed 3-1 early in the opening quarter, but goals by McCaleb and Panepinto quickly tied the game. Dowiak scored for the Big Red for a 4-3 advantage, McCaleb and Molloy scored consecutive goals for a 5-4 Brown lead after one quarter.
The pace slowed down in the second quarter with each team limited to just two goals each. The Bears led by as many as two goals in the quarter, following goals by sophomore Jackson Newsome (Arlington, VA) and Molloy, but Teat's goal with 21 seconds left cut Brown's lead to 7-6 at intermission.
Mcculloch tied the game for the Big Red, 7-7, with a goal two minutes into the third quarter.
Brown answered with three straight goals and took the lead for good with McCaleb, Hudak and Molloy scoring for a 10-7 lead at the 7:31 mark.
Dowiak scored for the Big Red with 6:32 left in the quarter, but consecutive goals by Panepinto and Hudak lifted the Bears to a 12-8 advantage heading into the final 15 minutes.
The Big Red drew to within two goals, 12-10 on consecutive scores by Teat, the second with 7:44 remaining, but Molloy iced the game with his fourth goal with 1:44 left on the clock.
The Bears will play their final non-league game of the season, traveling to Smithfield, R.I., on Tuesday, April 25, to face Bryant in a battle for the Ocean State Cup. Face-off is 7:00 p.m. at the Turf and Track Complex.