More black smoke Wednesday morning, still no pope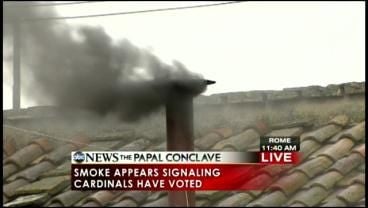 VATICAN CITY (AP) Black smoke is billowing from the chimney of the Sistine Chapel, meaning Roman Catholic cardinals have not elected a pope in their second or third rounds of balloting. Cardinals voted twice Wednesday in Michelangelo's famed frescoed chapel after a first vote Tuesday in a conclave to elect a successor to Benedict XVI, who stunned the Catholic world last month by becoming the first pope in 600 years to resign.
The conclave was called after Pope Benedict XVI resigned last month, throwing the church into turmoil and exposing deep divisions among cardinals tasked with finding a manager to clean up a corrupt Vatican bureaucracy as well as a pastor who can revive Catholicism in a time of growing secularism.