Awaiting The Monday Night – Tuesday Storm…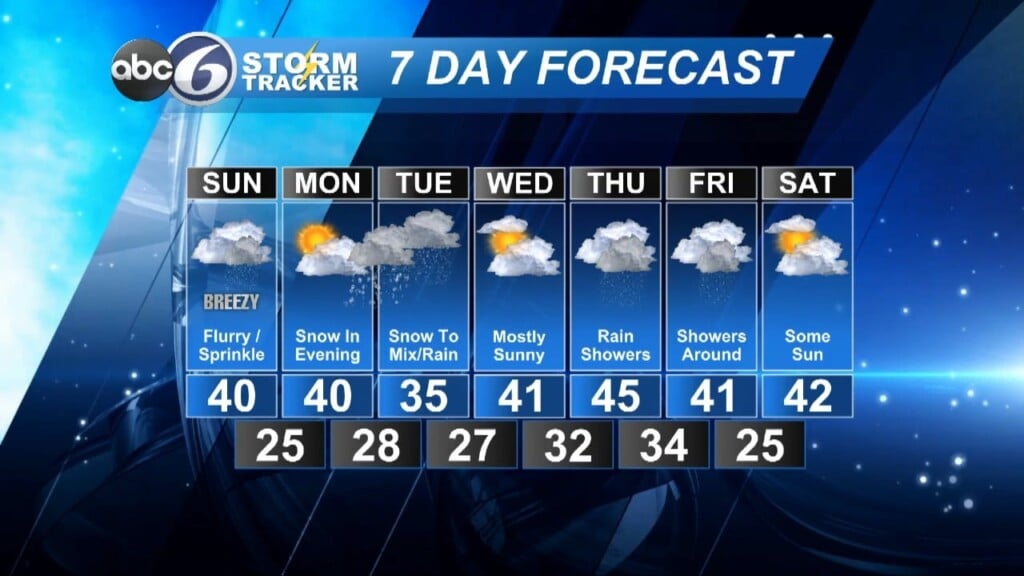 From ABC6 Meteorologist Bill Gile,
bgile@abc6.com
The sky will at least partially clear overnight as High pressure builds into the region to supply us with air before the storm arrives tomorrow night.
We'll start Monday off with a good deal of sun, but clouds will increase throughout the afternoon as the storm system enters the Great Lakes region. The Monday home bound commute will remain dry, but snow will overspread RI during the late evening hours and continue into Tuesday.
The storm will be redeveloping off the mid-Atlantic coast Tuesday morning and looks to take a lot of the energy out to sea with it for the afternoon. So this will not be a blockbuster storm, but it will be about a 24 hour event and it will have a significant impact on the Tuesday morning commute especially. The heaviest snowfall will occur between Midnight and 8AM Tuesday and the bulk of the accumulating snows will mostly occur by Noontime. As we go into the afternoon temperatures will start to climb above freezing and the snow intensity will be rather light and some mixing wiht rain may occur along the south coast and out toward the Cape. This is where snow totals will be the least, 2-4 inches. Much of RI will end up with 4-7 inches and even higher totals will be found throughout northern CT and western MA. The last of the snows will be ending just before Midnight Tuesday night. Temperatures will fall back below freezing, but then climb back into the melting range Wednesday as sunshine returns.
TONIGHT: clearing. Lows mid 20s.
MONDAY: sunshine yielding to increasing PM clouds and snow developing during the evening. Highs 37-40.
TUESDAY: snow, heavy at times through the morning commute will ease up by midday and the afternoon. Along the south coast and through New Bedford and to the Cape the may be some mixing with rain during the afternoon. Highs in the mid 30s.
WEDNESDAY: more sun than clouds. Highs in the low 40s.
THURSDAY: cloudy and some afternoon rain showers moving through. Highs in the mid and upper 40s.