More snow means more fun for some kids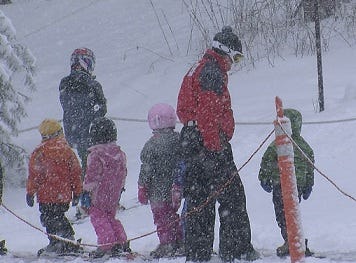 By: Chelsea Priest
The snow created a bit of a mess on some of the roads Monday, especially the further south you went. But while the snow was a headache for some, others took the time to enjoy it.
The 4-year-olds taking a ski lesson at Yawgoo Valley, loved the fresh snow. Here's what a few of them had to say. "(What are you doing today?) Skiing!", "It's so slippery and we get to go sledding!"
Other teens from Connecticut had a snow day. They knew exactly what to do with their time. Some said, "Come snowboarding at Yawgoo!", "We love skiing and we love Yawgoo so we thought, let's go to Yawgoo!"
The ski area has seen a little bit of everything this winter. General manager, Pati Dewardener said, "Is it a pun to say we've had a few ups and downs? We've had a couple liquid storms, but we've had some really nice snow."
Monday's storm brought a few inches. Kody Lewis spent the day snowboarding. He said, "It should be good because it's fresh snow on top of a good base so it should be really powdery."
February vacation is right around the corner, it's a time that is generally pretty busy for the ski area. If the weather cooperates, Yawgoo tries to stay open through late March.
(C) WLNE-TV 2014