More than a Dozen Arrested in Statewide Child Porn Sting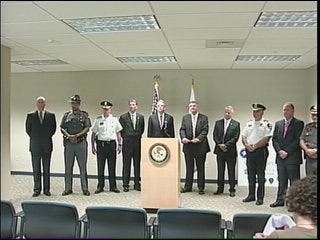 PROVIDENCE, R.I. (AP) – Seventeen people have been arrested in Rhode Island on child pornography charges. An 18th suspect faces steroid charges.
State and federal authorities announced the arrests on Wednesday as part of a sweep of 20 homes during an initiative they called Operation Safe Child.
Those arrested across the state are accused of receiving and sharing images of child pornography on the Internet. The suspects range in age from 17 to 48 years.
Authorities executed warrants in nearly 20 Rhode Island communities. They say some of those arrested on state charges could also be prosecuted for violating federal laws.
ABC6 News Reporter Malini Basu has more on the round-up, from a press conference held Wednesday afternoon.
ABC6 News Reporter Erin Logan shares details of one of the suspects, who is an owner of a local business which caters to kids.