Moreno's Five Touchdowns Leading Brown Past Bryant In Bears Season Opener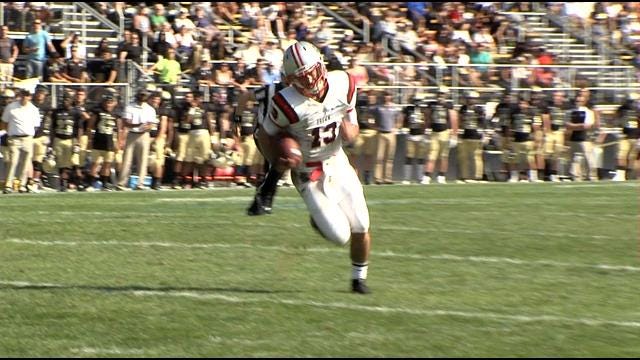 Brown University Press Release
Smithfield, R.I. – Senior quarterback Kyle Moreno (Pleasanton, CA), making his first collegiate start, accounted for five touchdowns, passing for thee and running for another two scores, to rally Brown from a 21-0 first quarter deficit and come away with a 35-27 win over Bryant Saturday afternoon at Bulldog Field.
Moreno completed 16-of-29 passes for 224 yards, throwing touchdown passes of 18, 11 and 11 yards, while rushing for two scores on runs of 10 yards and a game-winning two-yards to cap the monumental comeback.
Overall, the Bears' offense out-gained the Bulldogs by a 306-286 margin.
"We didn't panic after falling behind," said Moreno. "We had the mindset that we were just going to execute our game plan."
Senior wide receiver Garrett Swanky (Los Angeles, CA) stepped up with five catches for 65 yards, while senior All-Ivy wide receiver Alexander Jette (North Attleboro, MA) made four receptions for 75 yards.
"Garrett came up with some big plays," added Moreno. "It's the next guy up mentality. With Alex (Jette) and Troy (Doles) attracting a lot of attention, I just took what the defense game us. I've had a good relationship with Garrett since scout team of our freshmen year."
Brown's defense made three interceptions and made six tackles in the Bulldogs offensive backfield. The Bears were paced by senior inside linebackers Will Twyman (Sudbury, MA) and Max Tylki(Wethersfield, CT), who made six tackles each. Senior Jordan Ferguson (Ladera Heights, CA), sophomore Sebastian Dovi (Newark, DE) and Sam Russell (Newton, MA) each registered interceptions.
It was déjà vu all over again for the Bears, reminiscent of last year's game, as an early fumble deep in the Bulldog zone stopped a scoring drive. That was followed by Bryant's Charles Wingate blocking a 40-yard Brown field goal attempt and returning it 49 yards for a touchdown for a 7-0 Bulldog lead with 7:16 left in the first quarter.
A second Brown fumble, at its own 28-yard line, set up another Bryant scoring drive. Dalton Easton threw a 14-yard scoring pass to Matt Sewall with 3:47 left in the opening quarter for a 14-0 Bryant lead.
Bryant extended its lead following a partially deflected Brown punt at the Bears' 33 yard line. On the first play from scrimmage, Dalton three a 33-yard touchdown pass to Taylor Barthelette with 1:17 left in the quarter for a 21-0 advantage.
Brown's opening quarter of the season couldn't end quick enough, and the Bears seemed to get their rhythm in the second quarter.
Moreno got the Bears on the scoreboard with an 18-yard scoring strike to senior Troy Doles (Saratoga, CA) in the opening five minutes of the second quarter, to trail 21-7.
The Bears' defense turned over the Bulldogs when senior Russell intercepted a pass at the Bryant 37 yard line. Six plays later, Moreno scampered in from the 10-yard line to pull to within 21-14 with 8:03 left in the half.
Brown drew even, 21-21, in the opening four minutes of the second half when Moreno tossed a 14-yard touchdown pass to sophomore Anton Casey(Bethesda, MD) with 11:08 remaining in the quarter.
The Bears grabbed their first lead of the game, 28-21, when Moreno found senior Garrett Swanky (Los Angeles, CA) in the end zone with 7:21 left in the quarter on an 11-yard scoring pass.
On its next possession, Bryant drew to within one point of the Bears, 28-27, when Hunter Taute ran in from the two-yard line with 4:47 remaining in the third quarter. A missed extra point kept the Bears in the lead.
Moreno scored his second rushing touchdown of the day when he scored on a naked bootleg to the left side from the two-yard line just before the end of the quarter to put the Bears up 35-27.
Junior free safety Connor Coughlin (Medford, NY) stepped up for the Bears defense, stopping a fourth down Bryant pass with an interception at the Bears' one-yard line, keeping the Bulldogs from the game-tying score with 5:39 remaining.
Brown opens its Ivy League schedule next Saturday, September 24, hosting Harvard at Brown Stadium. It's Homecoming and kick-off is 2:00 pm.