Mother asks for cards for son with leukemia's bday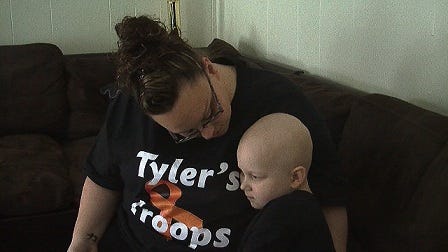 By: Samantha Lavien
Twitter: @samanthalavien
A Burrillville mother is requesting cards from emergency responders including firefighters and police officers for her son Tyler's birthday.
The 6–year–old is battling leukemia for the second time in 3 years.
"He's going to be so excited when he gets the mail that has his name on it and it's all for him for his birthday," said Tyler's mom, Rachel Seddon.
A Facebook page called Tyler's Troops was set up Monday afternoon. And, by noon on Tuesday it already had almost 400 members. As of 9 p.m. that number had more than doubled to almost 900. Rachel says the response for her son has been incredible.
"It's overwhelming but it's a good overwhelming the feeling is amazing," said Seddon.
The family has already received word that cards will be coming in from all across the world. Facebook responses stretch from Atlanta to Tennessee to Great Britain.
"He loves the whole idea of emergency response and even military," said Seddon.
In addition to the cards, several nearby departments are trying to plan some special surprises for the big day.
"You never think that something so small could turn into such a large event it is turning into what's going to be the greatest seventh birthday I've ever seen," said Seddon.
If you'd like to send Tyler a card the address is, 96 South Main St., Pascoag, R.I. 02859.
Tyler is currently in need of a bone marrow transplant. There is a "be the match drive" and a blood drive at the Pascoag Fire Department on February 25 from 2:30 p.m. to 7:30 p.m.
(C) WLNE-TV 2014