Mourners gather for funeral of Pete Frates, inspiration behind Ice Bucket Challenge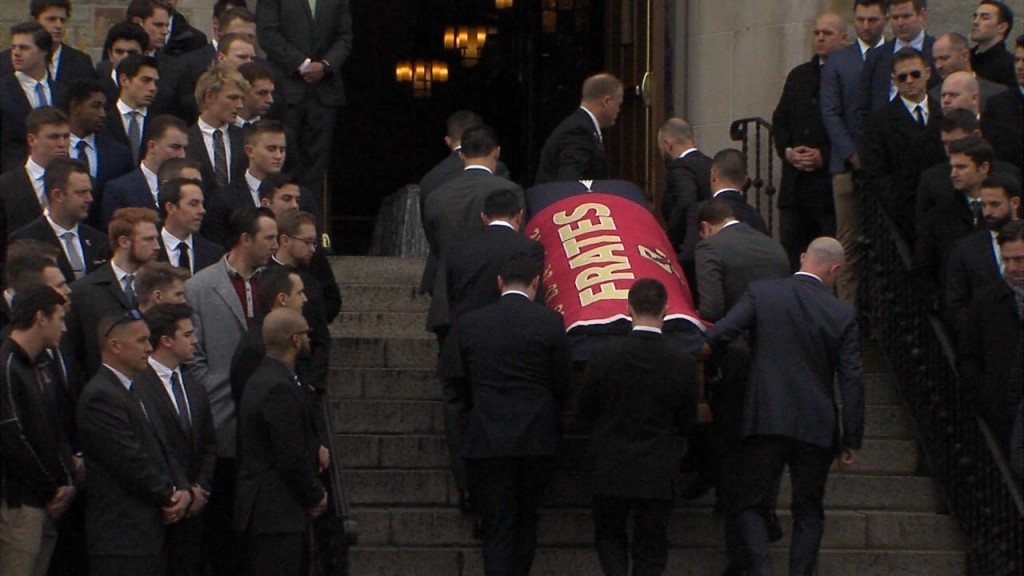 BOSTON, Mass. (WLNE) – The funeral for Pete Frates, the man whose heroic battle with ALS inspired the Ice Bucket Challenge, drew hundreds of mourners from across the country to pay their respects.
Pete Frates lost his seven-year battle with ALS on Monday morning. The Beverly native leaves behind his wife Julie and their daughter Lucy.
"The measure of a good life is, did it have an impact on people's lives? Well, the unspoken homily today here is that it certainly did. And there's more people beyond these walls that your husband, with your help, touched," said Father Tony Penna, Director of Boston College's Campus Ministry.
The funeral mass began at 11 a.m. Friday at St. Ignatius Church on Boston College's campus in Chesnut Hill. Mourners started filing in as early as 9 a.m. Some flew from across the country to attend.
The service was standing room only, with the downstairs chapel used as an overflow room complete with a live stream of the service.
Pete Frates' father, John Frates, delivered the eulogy.
"We're going to grieve for just a very brief period longer, then we're gonna celebrate his life."
He said his son would have loved seeing the service.
"He loved the pomp and circumstance. He really did," said Frates.
Those who knew him best reminisced on their favorite memories, like Penna, on a phone call he received from a neighbor in 2002.
"A neighbor from Beverly, a graduate of this university, said to me in a phone call 'There's a kid named Peter Frates. We gotta get him. He's smart, he can play ball, he helps people.'"
Frates, after being diagnosed with ALS in 2012, inspired the viral Ice Bucket Challenge that raised more than $200 million for ALS research and awareness.
"Before Pete got sick you couldn't find this many cameras to talk about ALS anywhere," said Boston College Baseball Coach Michael Gambino.
Frates' casket was carried into the church by his former teammates. He graduated from Boston College in 2007 and was a baseball star during his undergraduate years. Frates' served as Director of Baseball Operations until 2012.
Past and present Boston College baseball players lined the steps, all of them looked up to Frates as a mentor.
"If you met Pete, you wanted to be Pete. It was as simple as that. He was charismatic. He walked into a room, he lit it up," said Chris Shaw, former BC baseball player who now plays for the San Francisco Giants.
Some of the men have made it to the big leagues, but they'll never forget what Frates instilled in them.
"It's in all of us. Pete's spirit, Pete's lasting impact and just who he was as a person and that's gonna live on forever."
The Frates family asks that any donations be made to the Peter Frates Family Foundation. To donate click here.
© WLNE-TV 2019