MS airplane pull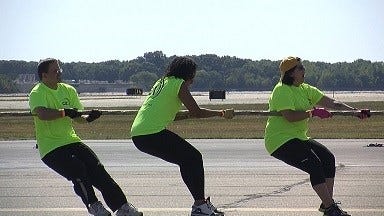 By: News Staff
WARWICK – Believe it or not, the strength of dozens can actually pull an airplane — and many people did just that to increase awareness about multiple sclerosis.
Hundreds attended the annual Airplane Pull contest at T.F. Green Airport to raise money for the Rhode Island chapter of the National Multiple Sclerosis Society. More than 60 teams of 25 people took turns pulling a 757 airplane.
"Helping people realize this is an illness that affects so many families – that's important," said
I'm not the only one that feels as strong about the MS awareness in the state of Rhode Island. There's a lot of people here that are dealing with it everyday and we can come together and raise awareness and lots of money.
Organizers hope to raise more than $70,000 for the Rhode Island chapter.
©2014 ABC6/WLNE-TV. All Rights Reserved.