Multi-alarm fire erupts out of Cambridge church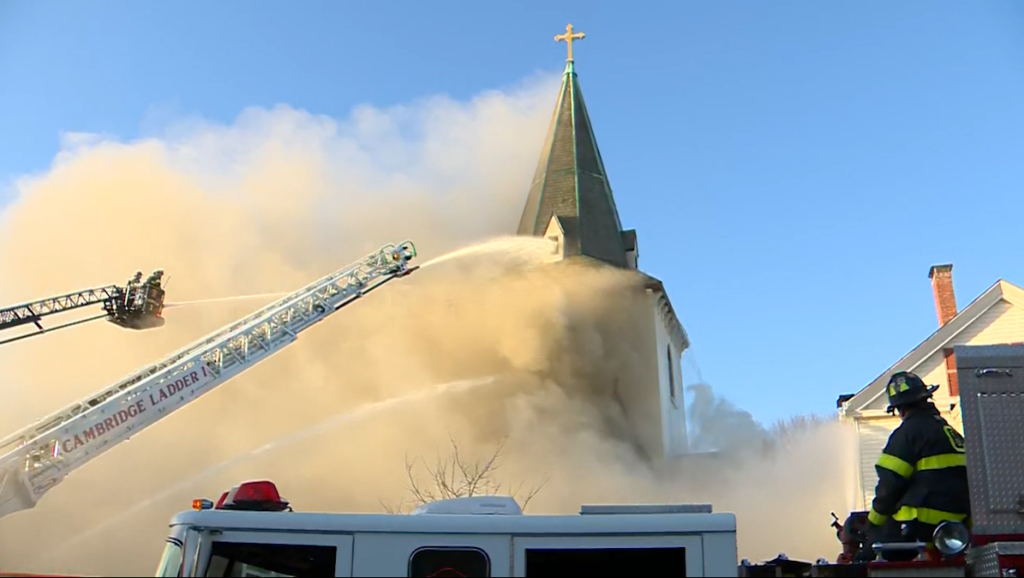 CAMBRIDGE, Mass. (WLNE) — A fire started inside a church in Cambridge, hours after it hosted an Easter service on Sunday, our sister-station WCVB NewsCenter 5, Boston reports.
The Cambridge Fire Department first tweeted about the multi-alarm fire at Faith Lutheran Church on Broadway shortly after 5:30 p.m.
According to the church's website, Faith Lutheran held a classic Easter service at 10 a.m.
Video from the scene first showed smoke coming from the church, while a fire engine had its ladder extended to a window in the steeple.
All firefighters were ordered out of the church when the smoke became much heavier and began clouding the building.
The fire department tweeted that the fire had reached its fifth alarm shortly before 6:35 p.m.
At this time, it is unclear what caused the fire or if anyone was inside the church when the fire started.
The Faith Lutheran Church website states the church is a congregation of the New England Synod of the Evangelical Lutheran Church in America.
The church is also home of Faith Kitchen, which has been cooking and serving meals to people in need for almost 12 years.
The program is run in partnership with Temple Beth Shalom and many other community members, including local restaurants.
This is a developing story and will be updated as information is released.