Munford, Matthews Sweep Atlantic 10 Weekly Awards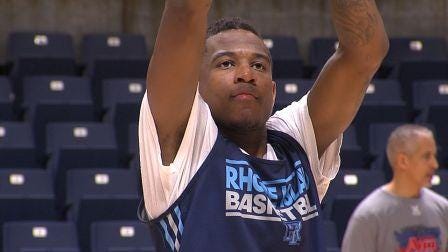 KINGSTON, R.I. — Rhode Island swept the Atlantic 10 weekly honors, with Xavier Munford named Player of the Week and E.C. Matthews
earning Rookie of the Week honors. Both guards were key components in
the Rams' 2-0 week, winning at Brown on Jan. 2 and at LSU just two days
later on Jan. 4.
It marks the first time since the 1991-92 that two Rhode Island players
swept the A-10 weekly awards. On Feb. 29, 1992, Jeff Kent was named
A-10 Player of the Week and Jason Alexander was Rookie of the Week.

Munford averaged 21.0 points, 5.5 rebounds, 1.5 assists, 1.5 steals, and
1.5 blocks last week, connecting on 10-of-12 from the charity stripe
over the two games – good for 83.3%. At Brown, the senior tri-captain
lifted the Rams to their first true road victory of the season, pouring
in a game-high 25 points on 8-of-16 shooting from the floor. He also
added five rebounds, two assists, a block, and a steal in 38 minutes.
Last time out at LSU, Munford added 17 points – 13 coming in the second
half, as the Rams held off a late charge by the Tigers. Munford also
had a solid defensive effort at LSU, tallying two blocks and two steals
in 38 minutes of play.
Munford becomes the first Rhode Island player since Orion Outerbridge
on Jan. 17, 2011 to earn Atlantic 10 Player of the Week honors.

Matthews earned his second A-10 weekly rookie award after averaging 21.0
points, 7.0 rebounds, 3.0 assists, 1.5 steals, and 1.0 blocks while
shooting 54.2% from the floor (13-24), 71.4% from beyond the arc (5-7),
and 78.6% from the foul line (11-14). The Romulus, Mich. native had a
career-high 21 points at Brown on Jan. 2, connecting on 7-of-12 shots –
including 3-of-4 from the perimeter. He grabbed five rebounds, while
recording two assists, two blocked shots, and three steals in 38 minutes
of play.
At LSU, he matched his career-high in scoring again, with 21 points
against the Tigers. Matthews was 6-12 from the floor, 2-3 from 3-point
land, and 7-of-9 from the free throw line. He pulled down a career-best
nine rebounds and dished out four assists in 36 minutes of action.
Matthews was also named the A-10 Rookie of the Week on Nov. 25.
Rhode Island returns to action tomorrow night – Jan. 7 – when it opens
A-10 play on national television versus Saint Louis. Tip time at the
Alex and Ani Court at the Thomas M. Ryan Center is set for 7 p.m. and
the game can be seen live on the CBS Sports Network.