Narragansett firefighters battle brush fire in 8 acres of woods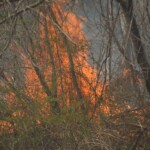 NARRAGANSETT, R.I. (WLNE) — The Narragansett Fire Department said they battled a brush fire Wednesday afternoon in an eight-acre plot of woods.
According to Fire Chief Scott Partington, a fire was reported at 11:47 a.m. today. He said approximately eight acres of wooded land south and adjacent to the Domenic Christofaro Playground soccer field near Boston Neck Road.
The chief said the scattered fires were fed by the wind and dry conditions in the wooded area. He said it was also difficult for firefighters to access.
Mutual aid was called in from throughout Southern Rhode Island and the Rhode Island Department 0f Environmental Management also assisted.
Officials confirmed no structures or homes were involved but one single family home was about 40 feet from the fire when crews extinguished it.
One firefighter was transported to a nearby hospital with suspected over-exertion, dehydration and heat exhaustion.
No other related injuries were reported.
No cause for the fire has been determined and the incident remains under investigation.