National Guardsmen Deploying to Afghanistan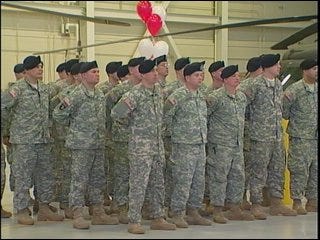 Approximately 60 members of the RI National Guard will soon be deploying to Afghanistan.
The Guardsmen are members of F Company, 1st Battalion, 126th Aviation Regiment. They operate UH-60 Blackhawk helicopters in a MEDEVAC role on the battlefield, transporting wounded soldiers back to hospitals.
The unit, activated in 2009, is split between RI and Delaware and headquartered at Quonset.
Lieutenant Colonel Paul Peltier is their commanding officer and it's the first overseas deployment for F Company, although many of its members were previously with the 126th when the regiment was organized differently.