More than half of RI adults fail NECAP test challenge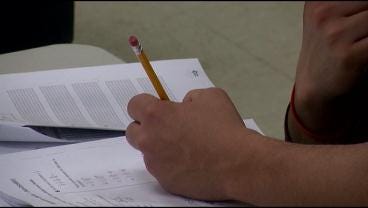 By Abbey Niezgoda
The results are in for 50 adults who took the math portion of the NECAP test and 60% failed. The test was handed out by a student group that is trying to stop it from becoming a graduation requirement.
From educators to state representatives, a panel of adults who took the test rattled off their failing scores. However, an engineer who was in the minority who passed it, says the test sets up students to fail.
"It is designed so that lots of students will flunk," Tom Sgouros said.
The Providence Student Union, who handed out the test, says the results support their fight to stop the NECAP from becoming a graduation requirement in Rhode Island.
Of the 50 professionals who took it, 30 scored substantially below proficient, meaning they would be in danger of not getting a diploma.
"It proves that the test is not an effective way to show a persons value," Cauldierre McKay, a member of the Providence Student Union said.
However, some say the mock test is not a fair assessment because the adults have not studied. The students argue they are not prepared either.
Education Commissioner Deborah Gist says the focus should be on helping students pass, not showing them they do not have to.
"It really concerns me because it sends a wrong message that no matter what they do, they won't be able to be successful," Commissioner Gist said. "Imagine if these 50 people spent Saturday tutoring students in math for example."
Commissioner Gist says about all, the state cannot continue to graduate students with a diploma that does not mean anything. The adults who took the test say, the NECAP is not the way to change that.
"There are a number of students graduating who are not prepared," Representative Teresa Tanzi said. "But this test isn't fixing it, and teaching to this test is not the answer."
A common misconception here is that students have to pass the NECAP in order to graduate. The reality is they only need to show progress, which might mean getting a few more questions right the next time around. The Providence Student Union says that encourages teaching to the test, which is another reason why they are against it.