New Bedford Accident Sends 7 to Hospital, 4 by Med-Flight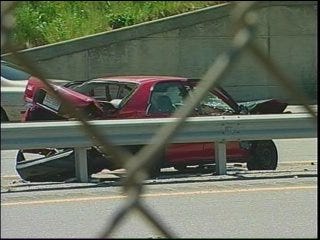 The MA State Police issued the following press release, regarding a serious accident in New Bedford, Saturday:
Today at 1:05 p.m., Troopers from the State Police Barracks in Dartmouth responded to calls for a multi-vehicle crash on Route 18 southbound in New Bedford. Four of the victims in the 3-vehicle crash were taken by medical helicopters to various hospitals.
Preliminary investigation by Trooper Daniel Bryden indicates that the first two vehicles were racing and the first vehicle struck a third vehicle, causing the first vehicle to lose control and then strike the second vehicle, which it had been racing with. Witness statements also confirm that both vehicles had been operating at extremely high rates of speed prior to the crash.
The first vehicle was a 1993 Honda Civic being operated by a 17-year-old female. She was seriously injured and was transported by ambulance to St Lukes Hospital. The passenger in her vehicle, 18-year-old Brittany Oliveira of New Bedford, who was not wearing a seatbelt, was ejected from the vehicle and was transported to RI Hospital by medical helicopter with serious injuries.
The second vehicle was a 1994 Honda Accord being operated by 18-year-old Xaviel Quinones of New Bedford. He was transported by ambulance to St Lukes Hospital with serious injuries. Two of his passengers, 19 year-old Jessica Dussault of New Bedford and a 2-year-old boy, were taken to Mass General Hospital, by medical helicopter, with serious injuries. The fourth passenger, a 2-year-old boy, was taken to Hasboro Hospital also by medical Hospital.
The third vehicle was a 1999 Volkswagon Jetta being operated by 36-year-old Sonia Perry of Dartmouth. She was transported by ambulance to St Lukes Hospital with serious injuries.
Both operators of the first two vehicles are being cited for numerous infractions to include speeding, marked lanes violations, and racing. Additional charges could filed pending the outcome of the investigation.
This crash remains under investigation by Troop D of the Massachusetts State Police with the assistance of the State Police Collision Analysis Reconstruction Section and the State Police Crime Scene Services Section.
Troopers were additionally assisted at the scene by the New Bedford Police Department and the New Bedford Fire Department.
No further information is available at this time.