New Bedford church closes doors for good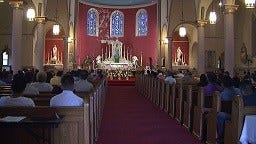 By Kirsten Glavin
kglavin@abc6.com
@kirstenglavin
NEW BEDFORD, MA – Parishoners in New Bedford said goodbye to St. Kilian Church, their longtime place of worship, on Sunday.
For many at St. Kilian, it's more than a church. It's a cherished second home filled with memories church members still hold close to their hearts.
"I thought, oh my gosh, I am actually doing this. I am reading at the Easter mass," said Cindy Duran-Ayala as she recalled one of her favorite memories at St. Kilian.
The New Bedford church held it's final holy mass on Sunday, before closing it's doors for good.
"We're all feeling a big loss, because this place means a lot to us," said Duran-Ayala.
According to church–goers, the building is suffering from water damage, stemming from the roof. ABC6 is told that repairs are costly and attendance is too low to absorb renovation fees.
"The leaks have been there for quite a few years," said Pastor Octavio Cortez.
The church members, who come primarily from Latino and Mayan communities, will now merge with St. Anthony of Padua church, beginning next Sunday. Pastor Cortez said in his final message to those at mass, to "be thankful for it and to look forward to see what the lord has in store for us at St. Anthony. To be confident that he is taking care of us."
What will happen to the church after it's closure, is unclear.