New Bedford City Council supports teacher Joanne Maura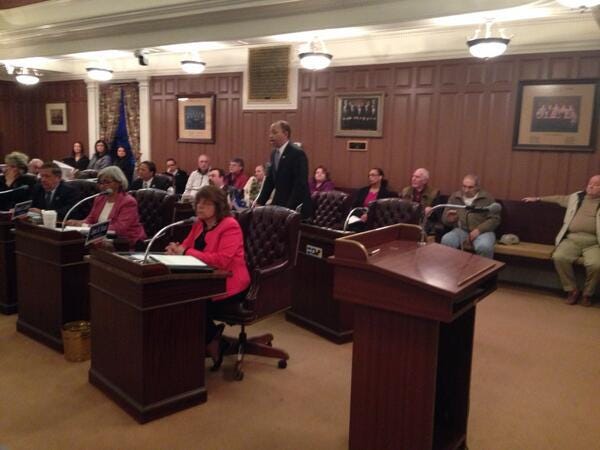 By News Staff,
The New Bedford City Council is supporting a teacher who had a chair thrown at her by a student last month. The incident was all caught on video.
The teacher shown in the video getting a chair thrown toward her by a student, now finds herself under investigation. That teacher at New Bedford High School was told by the administration she didn't handle the situation properly and now, she could lose her job.
Thursday night, the City Council passed a motion urging the mayor and administrators not to take disciplinary action about Joanne Maura.
"I've heard from parents, I've heard from colleagues over at the hospital where I work. I've heard from teachers in general people are really in an uproar about her being held accountable about what happened, not following proper procedure. What procedure do you follow when a chair is launched at you," said Councilor Brian Gomes.
On March 24th, 18-year-old Kemar Roselus is shown throwing a chair toward Maura because she wouldn't give him back his cell phone.
He's being punished by the school and police, but the superintendent wasn't notified until a week later. "They are trying to say I didn't go through the proper channels to report it, " says Maura.
When the student became combative, Maura yelled for another teacher to help. Moments later,sShe says one of the school's housemasters showed up and saw this broken chair. She figured that was enough. "I'm the victim of the crime so why am I being blamed for being a victim? it doesn't make any sense to me, " adds Maura.
According to the letter sent to Maura, The school's headmaster says " you failed to perform your responsibilities as a teacher and properly inform administration of the nature, details and severity of the incident, or provide a conduct report in a timely fashion." It goes on to say,because of that she could be fired.
Mayor Mitchell released a statement which says in part:
"No teacher should ever receive the treatment that Ms. Maura received from her student. There are, however, questions about how this incident was handled by school staff. The fact is there are things we don't know about the incident, so making judgments about Ms. Maura's or any other staff person's actions is premature in the absence of all the facts being known."
Maura will meet with the headmaster and superintendent here at New Bedford High School on Monday.
(C) WLNE-TV 2014