New Bedford police charge 3 on weapons and drug offenses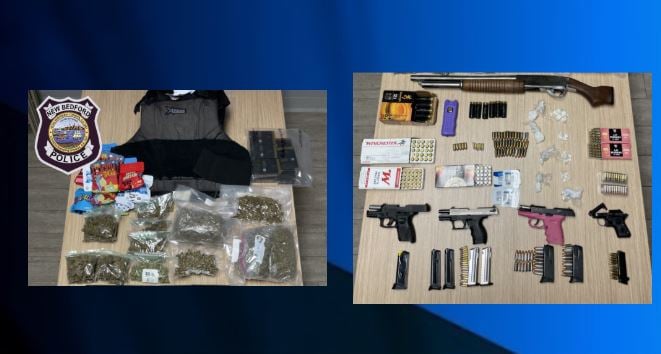 NEW BEDFORD, Mass. (WLNE) — The New Bedford Police Department said their narcotics detectives arrested two suspects and charged a third on various offenses yesterday.
According to police, a search warrant was executed on an apartment on Harwich Street. They said the targets of their investigation were Leroy Mosley, 50, Jiill Martin, 45, and Cheri Jardin, 28.
Authorities said the search resulted in the seizure of the following:
44 grams of crack cocaine
More than three pounds of marijuana
Numerous suboxone strips
More than $800 in cash
Police said they also located four handguns. a sawed-off shotgun, hundreds of rounds of ammunition of different calibers and a stun gun.
A bullet-resistant vest was also found in the apartment, authorities said.
Mosely and Martin were both taken into custody and charged with a variety of offenses including trafficking cocaine, multiple counts of illegal gun and ammo posession and one count of posessing a large-capacity firearm.
Authorities confirmed Mosely was also charged as a career criminal due to his prior convictions of weapon possession and robbery.
Jardin, who police said was not on scene at the time of the search, will be charged and summoned to court to answer for their offenses.
New Bedford police further stated that in the last 10 days, they've taken eight guns out of the hands of illegal possessors.