New Bedford Student in Search of Kidney, Hope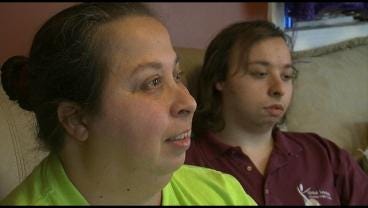 For Larry Adams, 20, of New Bedford, the health problems began when he was 7 years old.
When he had an asthma attack at 16, doctors discovered both of his kidneys had failed. For the last four years, he has been waiting for a donor.
"He needs at least a kidney to go on with his life," Marie Adams, his mother, said. "He's so young. He has his whole life ahead of him."
When Larry's kidneys stopped working, everything else seemed to stop too, including school.
"I started passing out in my math class," Larry said. "And trust me, I love math. For me to be passing out in math, that's bad."
It's gotten so bad that the math lover has to roll out of bed at 5 o'clock in the morning, 3 days a week, for 3 hours of dialysis. The routine is his only hope of holding on as he waits for a kidney. Lately, he can barely make it through the treatments.
"He's not doing so well on it. He has cramps in his arms and in his chest. He has anxiety and his eyes roll back," Marie Adams said.
His family says their son has had trouble breathing during dialysis multiple times. It makes the waiting tough, and even tougher after watching a half dozen donors come forward and none of them work out. So far, no family members have been found to be viable donors.
Larry's blood type is O positive. If you would like to help or know someone who could, please call 508-496-4985.