New Bedford Voc-Tech school displays Heath's Medal of Heroism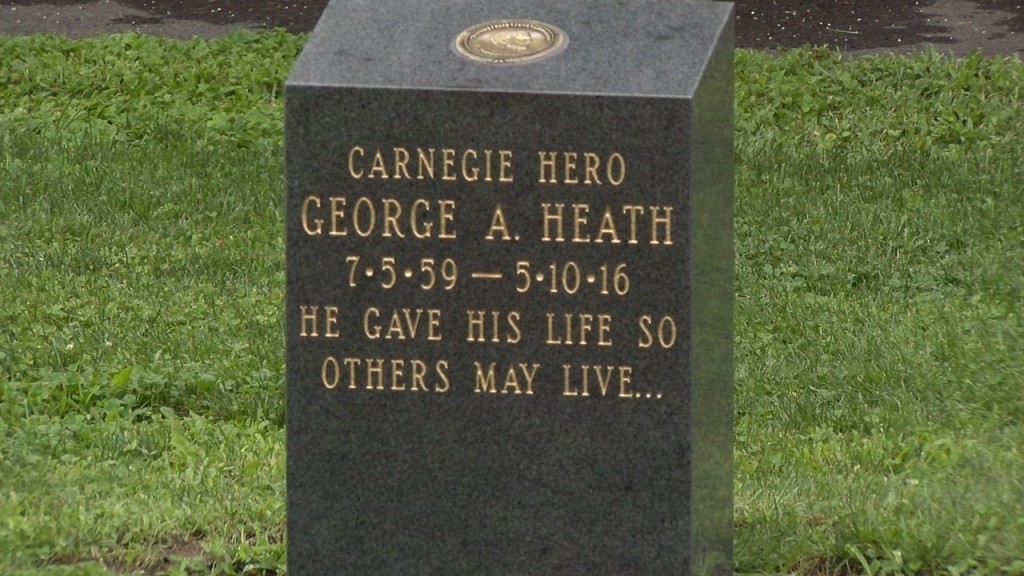 By: Chloe Leshner
cleshner@abc6.com
@cleshnerabc6
More than a year after he gave his life protecting others during the stabbing rampage at the Silver City Galleria, George Heath is given a permanent memorial at the school he worked at.
George Heath was a dedicated teacher at the Greater New Bedford Voc–Tech school and when students return for classes in 2 weeks, they'll see his Carnegie Medal of Heroism displayed on campus. Only ABC6 was with his wife Rosemary when she saw the honor for the first time.
Right outside the classroom where George Heath taught sits his Carnegie Medal of Heroism. His wife Rosemary Heath emotional as she sees it for the first time. "It's just stunning," says Heath.
It's placed under a cherry blossom tree. Students asked the school to plant it there knowing it was George's favorite.
"They were everything to him. The whole reason for George getting up everyday and loving his job and being as happy as he was was because of the students and the ability they have," she says.
Rosemary accepted the Carnegie Hero Fund Commission Medal on the 1 year anniversary of the attack, honoring the incredible sacrifice her husband made when he gave his life so others could live. She could've put it anywhere, but chose Voc-Tech.
"He really had a big impact on the school on the staff and the students that were lucky enough to have him. Rosemary is still sharing George with the Voc-Tech community, it's amazing, shes an amazing woman," says Sue Demers, who works at the school.
Because of that, students for years to come will know exactly what George did and Rosemary hopes it will be an invaluable lesson to always help others. "George did. He did it everyday, he did it when he died and we stood together to help someone who needed it," says Heath.
George Heath is leaving a lasting impact on his students in more ways than 1. This year, $7,500 worth of scholarships were given out through the George Heath Superhero Scholarship.
(C) WLNE/ABC 6 2017