New Big East Names Val Ackerman Commissioner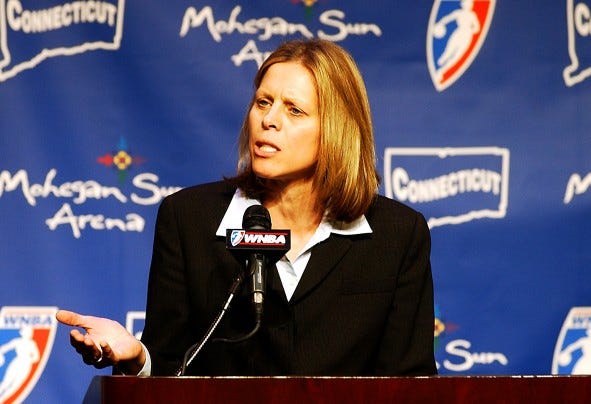 Ken Bell
Big East news release…
New York – June 26, 2013
– The Big East today announced the appointment of Val Ackerman, a
pioneer with nearly 25 years of experience as a high-level sports
executive and a passionate advocate for the values of amateur
athletics, to serve as the first Commissioner of the newly
reconstituted, 10-team Big East Conference. The Big East, which will be
headquartered in New York City, will officially commence operations on
July 1, 2013.
Ackerman's
vast expertise in the basketball arena runs deep, and her distinguished
and accomplished career includes executive posts at the National
Basketball Association, the Women's National Basketball Association and
USA Basketball.
A
2011 inductee into the Women's Basketball Hall of Fame and the current
U.S. Representative to the International Basketball Federation (FIBA),
Ackerman is perhaps best known for her nine-year tenure as the founding
President of the Women's National Basketball Association, where she led
the initial launch and presided over the rapid expansion of one of the
most successful women's professional sports leagues in history. She
further solidified her status as a trailblazing and results-oriented
sport executive during her subsequent four-year tenure as the first
female President of USA Basketball, which culminated in Gold Medal
performances by both the men's and women's basketball teams at the 2008
Olympics in Beijing.
"The
Big East is incredibly fortunate to have Val Ackerman lead us into this
exciting new chapter for our conference," said Rev. Brian J. Shanley,
O.P., President of Providence College. "Val is exactly what the Big
East needs – she embodies the highest personal and professional values
of the sports industry, and is a hard-charging and innovative leader who
can shepherd the conference to continued success."
Georgetown
University President John DeGioia added, "Val has achieved great
success within every element of the sports business industry. With the
psyche of a former Division I athlete, she has marshaled operations that
directly resulted in elite levels of play, lucrative sponsorship deals,
and lasting partnerships. We are thrilled to welcome her to the Big
East."
Ackerman
said, "I am honored to be given this incredible opportunity to work in
partnership with the ten world-class institutions that are marching
ahead under the Big East banner. Our mission is simple – to continue and
enhance the Big East's legacy of intense competition, spirited
rivalries and unparalleled achievement, not only in college basketball,
but in all intercollegiate sports."
"I
congratulate the Big East for making such an inspired choice in Val
Ackerman," said NBA Commissioner David Stern. "I had the pleasure of
working alongside Val for many years, including the period in which she
transformed the WNBA from a mere concept into a thriving basketball
league. Her experience and intelligence, along with a keen analytic
ability, an intense work ethic and a winning management style will help
steer the historic Big East Conference to even greater heights."
In
March, the Presidents of Butler, Creighton, DePaul, Georgetown,
Marquette, Providence, Seton Hall, St. John's, Villanova and Xavier
gathered to announce the formation of the new Big East Conference, along
with a series of seminal developments that will help shape the future of the basketball-focused conference.
At the time, it was announced that the 10-member Big East, which will begin play in multiple sports
starting with the 2013-2014 academic year, has formed an unprecedented
alliance with FOX Sports and its new national cable network, FOX Sports
1. Under the broadcast partnership, FOX Sports will have television
rights to a wide range of marquee Big East basketball games, including
the annual Big East conference tournament, which will continue to be
played in its historic Madison Square Garden home.
Ackerman
began her sports management career in 1988 at the National Basketball
Association, where she served as staff attorney, special assistant to
Commissioner David Stern and Vice President of Business Affairs, prior
to leading the WNBA.
She
has most recently served as a consultant to the National Collegiate
Athletic Association, for which she completed a comprehensive analysis
on the state of women's college basketball. She is a Board member of
the Knight Commission on Intercollegiate Athletics, the Naismith
Memorial Basketball Hall of Fame and the Women's Basketball Hall of
Fame. She is also an adjunct professor at Columbia University.
"Val
Ackerman has worked alongside college presidents, commissioners,
coaches, athletic directors, players, sponsors, broadcasters and the
heads of many sports governing bodies to improve the world of amateur
athletics," said Xavier University Athletic Director Greg Christopher.
"As the new Big East gets started, long-range vision is our top
priority. Val's experience stands out on that front, and she will
provide strong leadership in the future. I look forward to working with
Val to build the Big East into a preeminent Division 1 conference."
Added
Villanova University men's basketball coach Jay Wright, "Val possesses
an unparalleled understanding of the sport of basketball and knows from
experience what it takes to operate a successful league. Her work with
the NBA, USA Basketball, NCAA, and WNBA will be a great asset to our
conference. We're excited to welcome Val to the Big East.""
A
graduate of the University of Virginia, Ackerman was a four-year
starter on the women's basketball team, one of the first female
scholarship student athletes at the institution, and a two-time Academic
All-American. She played basketball professionally in France for one
year before enrolling at UCLA, where she earned her law degree.
###