New bill seeks to extend 10 cent toll well studying alternative bridge funding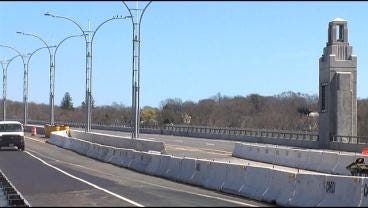 By: Dee DeQuattro
Email: ddequattro@abc6.com
Twitter: @deedequattro
A new bill is proposing extending the 10 cent toll on the Sakonnet River Bridge until July in order to fully vet an equitable alternative to tolls on the bridge.
Right now the ten cent toll is set to end on April 1 and if there is no alternative funding source for bridge maintenance the Rhode Island Bridge and Turnpike Authority will be permitted to implement the full 75 cent toll for in state cars with E-ZPass transponders and $5.25 for out-of-state vehicle.
This bill gives us the time we need for our colleagues in the General Assembly to review our transportation proposal and, if approved, place it in the state budget," said Representative Edwards, the primary House sponsor of the transportation bill. "This needs to be a transparent, thorough process so that we do not have to revisit this issue again. Bridge tolls are still a hot-button issue for my district and the East Bay; although I certainly would not limit this conundrum to just East Bay residents. How we go about maintaining our bridges and roadways is a statewide issue, which we have said from the beginning. We have done our homework, and now it's time to move forward and address this issue head-on."
"We put the April 1 deadline in place so that we could study the toll issue," said Sen. Louis P. DiPalma (D-Dist. 12, Middletown, Newport, Little Compton, Tiverton), who is the Senate sponsor of the transportation bill. "If nothing came of that study, that deadline wouldn't matter right now. But because we were able to come up with a compromise that we believe alleviates a lot of the concerns related to the issue, it is now imperative that we take the next step and give everyone ample time to ask questions. This is not something we want to rush."
Earlier this month, a transportation proposal was submitted which would establish a new Infrastructure Trust Fund using existing revenue streams to maintain state-controlled roads and bridges. It would also transfer the Sakonnet River Bridge and the Jamestown-Verrazzano Bridge from the Rhode Island Bridge and Turnpike Authority back to the state. The legislation would also establish a new Rhode Island Bridge Authority under the Rhode Island Department of Transportation.
(C) WLNE-TV 2014