NEW DETAILS: District Court Judge accused of bizarre behavior in courtroom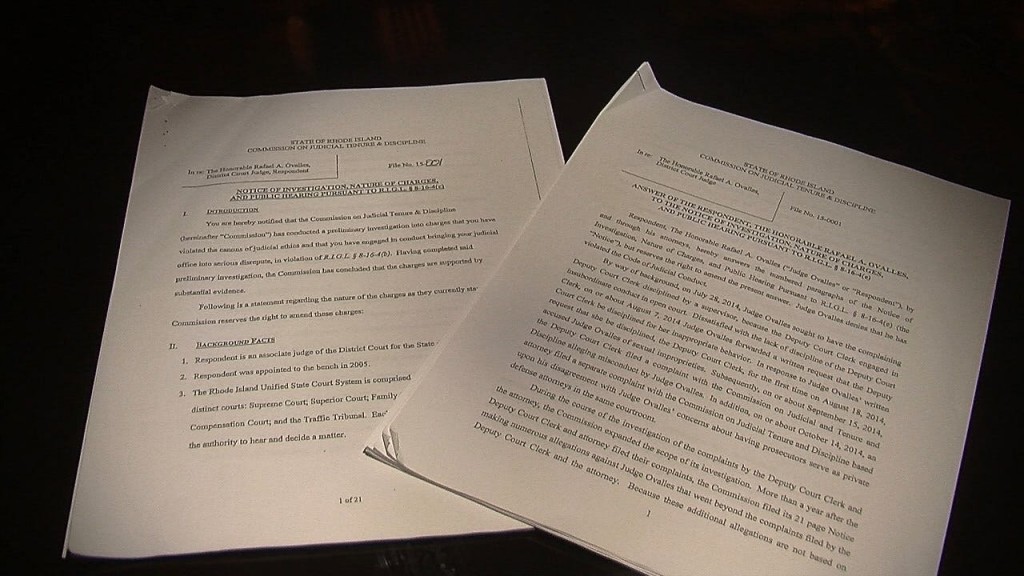 By Alana Cerrone
acerrone@abc6.com
@Alana_Cerrone
Over 60 notifications against District Court Judge Rafael Ovalles have been compiled in a summary of testimonies by court clerks and employees, and even attorneys.
Amongst the accusations – berating a female public defender, throwing files at a clerk, and even sleeping on his desk.
But his spokesperson says these allegations will not be supported by sworn witness testimonies.
Ovalles was appointed in 2005. The investigation into his alleged misconduct began last year when the Commission on Judicial Tenure heard two complaints against Ovalles.
As they dug deeper they say they uncovered more evidence that he violated the code of judicial conduct, including several claims of sexual harassment.
One deputy court clerk says she walked into the judge's chambers to find him with his pants unbuttoned, and hand in his underwear – but says he didn't try to cover up.
Other female litigants say they were treated unfairly and condescendingly. One clerk says she was told 'There is no woman that can teach me anything'.
The judge is also accused of responding inappropriately to cases on the Mental Health Calendar involving developmentally disabled people.
Of the allegations, Ovalles' spokesperson David Preston says:
"On behalf of Judge Ovalles we want to reiterate what we have stated all along, that the sworn testimony of the witnesses and other evidence will not support the many outrageous and sensationalized allegations contained in the Commission's Notice of Investigation. The Commission's Notice and its limited summaries of proposed witness testimony have been repeatedly contradicted by the sworn deposition testimony of those same witnesses in countless instances. We look forward to the opportunity to share that evidence with the public. In that regard, we remain deeply disappointed that the Commission closed its doors to the public and failed to follow its own rules by refusing to recognize Judge Ovalles' express waiver of confidentiality at the hearing on December 10, 2016. On that day, over 30 members of the community, including reporters, were denied access to the courtroom despite Judge Ovalles' desire for an open hearing. Going forward, Judge Ovalles has requested that cameras be allowed in the courtroom at the public hearing in January. At that time, he looks forward to making it clear that the allegations in the Notice of Investigation are not supported by the sworn testimony of witnesses."
Witnesses are expected to testify in a public hearing on these accusations on January 23.
Ovalles has been placed on a paid suspension pending the outcome of that hearing.
© WLNE-TV 2016