New England Revolution Sign US Men's National Player Jermaine Jones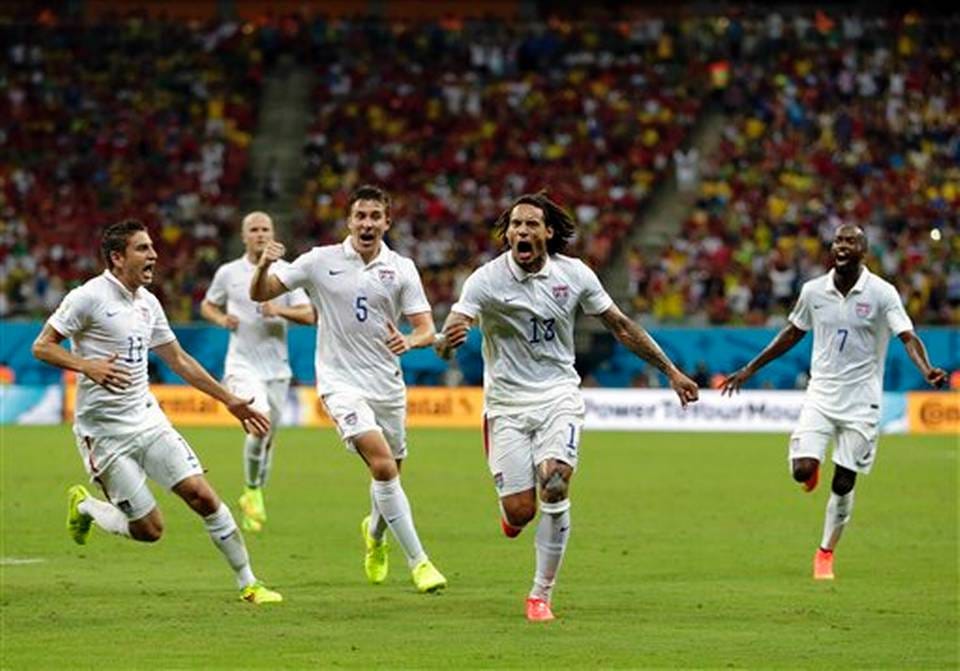 New England Revolution Press Release
FOXBOROUGH, Mass. – Jermaine Jones, one of the U.S. National Team's stand-out performers at the 2014 FIFA World Cup this summer, has joined the New England Revolution via a blind draw conducted by Major League Soccer. He will be added to the Revs' roster upon receipt of his International Transfer Certificate and will be one of the team's designated players. (Twitter: @jermainejunior)
Jones will be introduced to the media at Gillette Stadium on Tuesday at 2 P.M.
Jones, 32, comes to play in the U.S. after a 14-year career in Europe. Born in Germany and raised in Chicago, Mississippi and Germany, Jones played most of his professional career in Germany with Eintracht Frankfurt, Bayer Leverkusen and FC Schalke 04, in addition to stints with England's Blackburn Rovers and, most recently, Turkey's Besiktas.
Jones debuted with the U.S. National Team in October 2010 and has earned 46 caps, while scoring three goals. He was one of the United States' break-out stars in Brazil and played every minute of the United States' four matches in the 2014 FIFA World Cup. The defensive midfielder scored a spectacular goal in the U.S.' 2-2 draw against Portugal on June 22.
"This is a great opportunity for us to add one of the best players in the United States to our club," said Revolution investor/operator Jonathan Kraft. "We thought Jermaine was the best player for the U.S. in the World Cup and we are excited to welcome him to New England. Robert and I have always said that any major DP signing would need to make an impact, on and off the field, and we believe the addition of Jermaine will do just that. When we learned that he was interested in signing with MLS, we immediately informed the league of our interest. He is a dynamic player and is certain to have a tremendous impact on our team and in our community. We look forward to his many contributions."
"I'm very excited to come to MLS and join the Revolution," Jones said. "New England is an exciting team on the rise, and I believe I can come in and help the team make a push toward MLS Cup. Playing with the U.S. National Team has given me a great connection with the American fans and I'm looking forward to playing in front of them every weekend. I'm ready to get started with the Revs."
As a designated player of a certain threshold, Jones was not subject to allocation ranking for dispersal to an MLS team. The Revolution and Chicago Fire expressed an interest in Jones, and had the available salary budget and a designated player slot to accommodate him. Following a blind draw between the two clubs, Jones was assigned to the Revolution.
Jones began his professional career in 2000 with Eintracht Frankfurt where he made 93 appearances with the club's first team in four seasons, while also splitting time with the club's reserve/Under-23 side. During his time in Frankfurt, Jones played in both Bundesliga and 2 Bundesliga, as Eintracht Frankfurt was relegated to the second division for the 2001-02 and 2002-03 seasons, before gaining promotion back in 2003-04.
In July 2004, Jones moved to Bayer Leverkusen where he again split time between the club's first team and reserve side, and made two appearances in UEFA Champions League group play. He was loaned back to Eintracht Frankfurt in January 2005, where he made 14 appearances, scoring three goals and adding five assists before the 2 Bundesliga season concluded in May. At the end of his loan, Jones re-signed with Eintracht Frankfurt and made 29 combined appearances in Bundesliga and German Cup matches in 2005-06 and 2006-07.
Jones signed with FC Schalke 04 in July 2007 and became a mainstay in the S04 lineup. In two seasons, he made 59 league appearances, eight UEFA Champions League appearances (on the way to a quarterfinal appearance), four UEFA Cup appearances and additional appearances in UEFA Champions League qualification.
A shin injury prevented him from playing during the entire 2009-10 season and he finally returned to the field in a German Cup game on August 14, 2010. Jones made 10 league appearances with S04 before going on a six-month loan to England's Blackburn Rovers in January 2011, where he made 15 appearances.
Jones returned to Schalke 04 ahead of the 2011-12 season and made 59 league appearances in the next two-and-a-half seasons. He also made eight appearances in UEFA Europa League as Schalke advanced to the 2011-12 quarterfinals. Jones made six appearances in the 2012-13 UEFA Champions League as S04 advanced to the Round of 16, and three appearances in group play in the 2013-14 Champions League to help Schalke advance to the knock-out stage for the second year in a row. In January 2014, Jones was loaned to Turkey's Besiktas through the end of the season.
On the international level, Jones has been a stalwart in the United States' midfield under head coach Jurgen Klinsmann. However, his career could have progressed with the German national team as he is a dual citizen. After playing in Under-21 games for Germany, Jones was originally identified by German head coach Joachim Löw and called in for European qualifiers against Cyprus and Wales in the fall of 2007, but injuries prevented Jones from joining up with the team. He later appeared in three friendlies in 2008 and 2009 before petitioning FIFA to switch his international eligibility and play for the United States. His petition was approved in October 2009.
The injury that kept him out of club play in 2009-10 also prevented him from linking up with the U.S. national team for much of 2010, and he ultimately made his U.S. debut on October 9, 2010, in a friendly against Poland in Chicago and picked up an assist on Jozy Altidore's goal.
Jones made 11 appearances in 2011, including six starts in the U.S.' run in the CONCACAF Gold Cup. He scored his first U.S. goal – the game-winner – against Jamaica to push the U.S. into the semifinals of the confederation's championship. In 2012, Jones made 12 appearances – including 11 starts – and captained the team twice in matches against Venezuela and Panama.
In 2013, Jones made a career-high 12 appearances for the United States, and started seven matches in the squad's final round of World Cup Qualifiers. This year, Jones has made seven appearances, including four starts at the World Cup. In addition to his goal against Portugal, Jones also recorded the assist on Clint Dempsey's goal against Ghana in the U.S.' opening match of the World Cup.