New Hampshire Bounces Brown Behind Jacoby Armstrong's 26 Points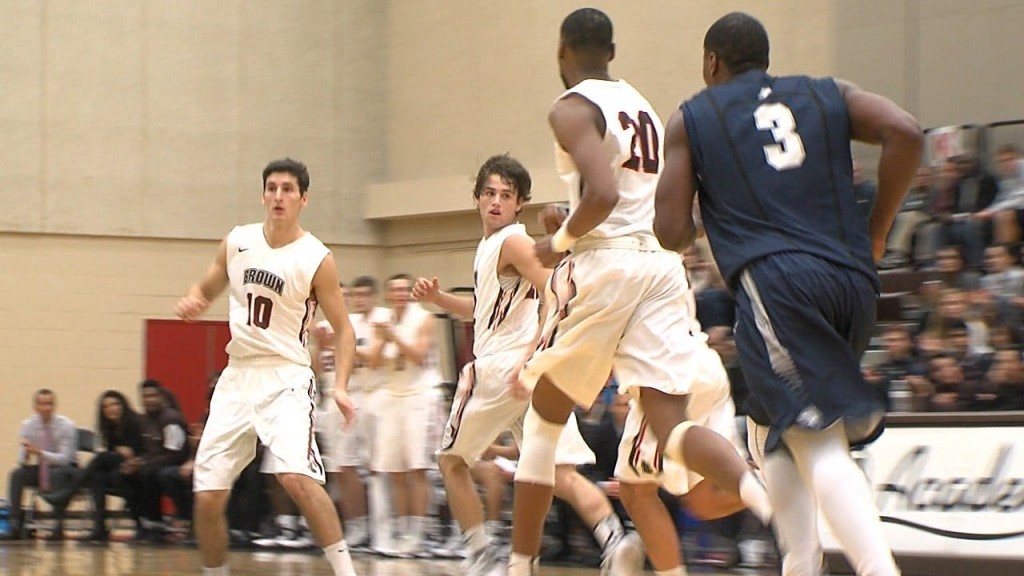 Brown news release…
Providence, R,I. – Junior forward Jacoby Armstrong scored 26 points to pace five New Hampshire players in double figures and lead the Wildcats to an 88-77 win over Brown at the Pizzitola Sports Center.
The loss drops the Bears to 1-4 overall, while New Hampshire extends its record to 3-1.
"Credit New Hampshire. They are a good team with good players and talent," said Brown head coach Mike Martin. "I know we can be better and I expect us to improve as the season progresses. I saw some real energy from our team late in the game."
The Bears were paced by senior forward Cedric Kuakumensah (Worcester, MA), who scored 15 points on 6-of-11 shooting from the feild and pulled down a team high eight rebounds. With two blocked shots against the Wildcats, Kuakumensah moved closer to the Ivy League's all-time record for blocks in a career, just seven short of the Ivy career record of 252.
Bears junior guard JR Hobbie (Spring Lake, NJ) scored 12 points, while junior Steven Spieth (Dallas, TX) and sophomore Justin Massey (Cooper City, FL) chipped in with 11 points each. Spieth also added a team high assists.
Armstrong was a dominant force in the paint, connecting on 9-of-14 field goals, while pulling down six rebounds. Jaleen Smith tossed in 18 points and handed out six assists, while Iba Camara posted a double-double for the Wildcats with 10 points and 10 rebounds.
Overall, New Hampshire shot a sizzling 54-percent from the field and out-rebounded the Bears by a 41-29 margin.
Brown fell behind at the half, 43-32, shooting just 37-percent from the field (10-of-27), while the Wildcats shot a torrid 60-percent (15-of-25) from the field. Armstrong's 15 first half points paced the Wildcats.
New Hampshire lead by as many as 17 points in the second half, 74-57, following a layup by Smith with 6:14 left in the game.
The closest Brown came down the stretch was to trail by seven points, 82-75, with 1:12 remaining on a four-point play by Hobbie, hitting the trey and a free throw.
Brown travels to Dallas, Texas for a match-up with Southern Methodist University on Sunday, November 29. It's a homecoming for Bears' junior forward and Dallas native Steven Spieth with tip off at 3:00 pm EST.