New license plates help support breast cancer awareness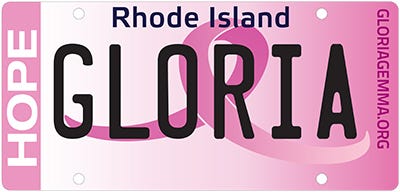 By ABC6 News Staff
Twitter: @ABC6
The fight against breast cancer could soon be coming to Rhode Island license plates.
Smithfield resident and breast cancer survivor Joelle Fournier is the driving force behind the license plates.
Fournier teamed up with the Gloria Gemma Foundation and last year Rhode Island lawmakers approved the ribbon of hope plates.
There is a one time fee of $41.50 to purchase the plates, $21.50 is for the plate production, and $20.00 will be donated to the Women's Cancer Screening Program.
She believes seeing these plates on the back of people's cars will be just another reminder to get regular breast cancer screenings.
For more information about the ribbon of hope plates, you can go to www.gloriagemma.org.
(C) WLNE-TV 2013