New noise violation against Fairhaven turbines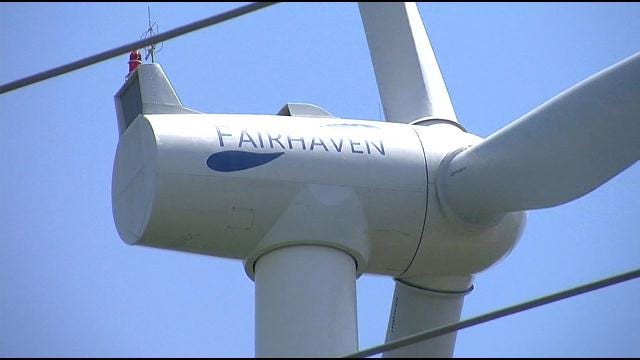 by ABC6 News Chief Political Reporter Mark Curtis
The troubled Fairhaven wind turbines were spinning Wednesday, and so is the continuing controversy.
A new report from the Massachusetts Department of environmental Protection says in June the turbines exceeded legal noise limits, after midnight.
"I think if you are one of the people affected, it just sort of supports the notion that we never completed the testing. They still haven't completed the testing," said Dr. Barbara Acksen of the Fairhaven Board of Health.
Doctor Acksen also says there needs to be an independent noise test, separate from noise testing done by the state, or paid for by the developer.
ABC6 Chief Political Reporter Mark Curtis said, "Several weeks ago, the Town told the developer to turn the turbines off from 7 p.m. to 7 a.m. because of the noise."
"Does that make you angry?" Curtis asked.
Dr, Acksen responded, "It's very frustrating. I think it's very frustrating."
The fight has gotten very political. Turbine opponents are going door–to–door backing candidate John Wethington…on behalf of those negatively affected by the turbines.
"They've closed their windows, they've put up their storms, they've bought air conditioners. They go inside, they don't use their yards, and they don't use their decks. They have trouble sleeping," said wind turbine opponent Louise Barteau.
But incumbent Peter DeTerra has supported wind energy and so do plenty of other here.
"Being you know, cost effective. And again, not to be pollutant," said wind turbine supporter Victoria Horton.
For its part, Fairhaven Wind says the noise violation in June was caused by high winds, and not by the wind turbines themselves.