New R.I. G.O.P. leader under fire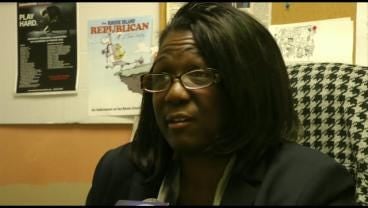 There is a controversy simmering in Rhode Island's Republican party. At issue is the background of the new executive director, who was just hired this week.
The choice is drawing praise in some corners of the party, but suspicion in others.
There was applause for Ann Clanton, as she was introduced as the new Executive Director of Rhode Island's Republican Party. But behind the scenes, some are raising concerns. A number of GOP members have called the ABC6 newsroom, saying they've heard Clanton voted for Democrat Barack Obama for President four years ago, and supported Independent Lincoln Chafee for Governor, after he left the GOP. Clanton sat down for her first ABC6 interview Thursday, but she won't disclose her votes:
"I am a Republican through and through," Clanton told ABC6's Mark Curtis.
"So, I just want to be clear: If I ask you point blank,'Did you vote for President Obama and Governor Chafee–?'" Curtis asked.
Clanton answered, "I don't think anybody has a right to have asked anybody who they voted for and everything."
Some say an African-American woman was a good choice for a party that needs to broaden its appeal to a more diverse voter base; but other prominent party members say they don't know Clanton's voting past.
"If I knew that this person we were going to hire was working for Democrats two years ago, I'd be very concerned, yes," State Rep. Joe Trillo said.
But the party Chairman calls it a matter of privacy:
"I fully expect she voted Republican all her life. If she wants to keep her votes yin confidence, that's exactly who there is a curtain at the back of the voting booth," Mark Zaccaria said.
While numbers of Republicans complained privately to ABC6 News about the selection of the new executive director, no one raised an objection at this meeting. Because of that, the party chairman says he is satisfied with his choice.