New Talent has URI Basketball on the Rise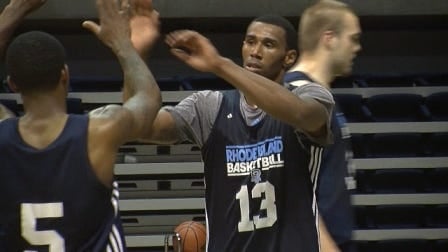 By Matt Blanchette
It's still only summer, so it's a long way until we will find out whether it will translate into wins and losses, but one thing is for certain, it is a far different URI basketball team this season. Between transfers and freshman, there will be six newcomers in Kingston.
"I don't think people are going to see us coming," sophomore Jordan Hare said. A lot of people know about Gil, you know Gil came from Rutgers, but i don't think a lot of people know about Deshon Minnis or Jarelle and you know EC, Hassan and Matthew Butler are all big prospects and they are coming to come in and make a big impact right away.
The talent Hare is talking about includes Gil Biruta who averaged 10 points a game while starting 32 games for Rutgers two years ago and two highly regarded freshman in slashing point guard EC Matthews and beastly swing man Hassan Martin, who is a lefty that can play inside and outside.
"The feel is much different," head coach Dan Hurley said. "The offensive talent. Our athleticism. The things that we are going to be able to do in terms of tempo and pace. It is going to be a much more fan friendly style."
I highly doubt they will recognize these people but they will get to know them real quick," TJ Buchanan said.
Wwhat better way to get to know one another than a trip overseas. The basketball team leaves for a 10–day trip to Italy in early August.
The ten practices combined with the games we play there," Hurley said. "You know the bonding on the trip. I don't think there is a program that can use a trip like this more than we can."
Said Xavier Munford: "It is going to be a great experience. It is my first time going to Italy. I want to experience the country, play on the court with my teammates, develop a bond out there. It is a nice little family trip out there.