New "Tree Huggers" environmental summer camps coming to Newport
The July summer day camps will focus on outdoor environmental education for children entering grades 2-5 next school year.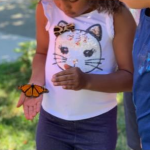 By: Tim Studebaker
Facebook: @TStudebakerABC6
Twitter: @TStudebakerABC6
Email: tstudebaker@abc6.com
NEWPORT, R.I. (WLNE) – Coming this July to Newport, a new summer day camp program from the Newport Tree Conservancy.  The "Tree Huggers" camp for children entering grades 2 through 5 will get them out among the trees of Newport, learning all about the environment.
Rachel Holbert is the Program Director at the Conservancy.  She says, "Seeing this need, especially this past year with kids being so sucked into technology and being deprived of their social connections, we knew this would be a great opportunity to get kids outdoors and engaged."
Campers will do crafts, play games, and explore the outdoors while learning about plants and ecosystems in small groups.  The camp will be held entirely outdoors with COVID safety measures in place.
Holbert says, "We're going to be learning about trees as part of our urban forest ecosystem, even things like climate change and how people are impacted by our trees in our community."
The first week will be held at the Newport Tree Conservancy's Heritage Tree Center.  That week costs $300 per camper, with scholarships available.  The second week will be held at Miantonomi Park at no cost, but advanced registration is required.
Holbert says, "We're going to have an immersive experience, and I think that it's going to go a long way toward kind of repairing some of the challenges that kids have gone through these past many months."
If this particular camp isn't right for your family, the Newport Tree Conservancy has other programs throughout the summer as well.  To learn more, visit their website: https://www.newporttreeconservancy.org/
© WLNE-TV / ABC6 2021