Newport Brewery Pairing Beer & Girl Scout Cookies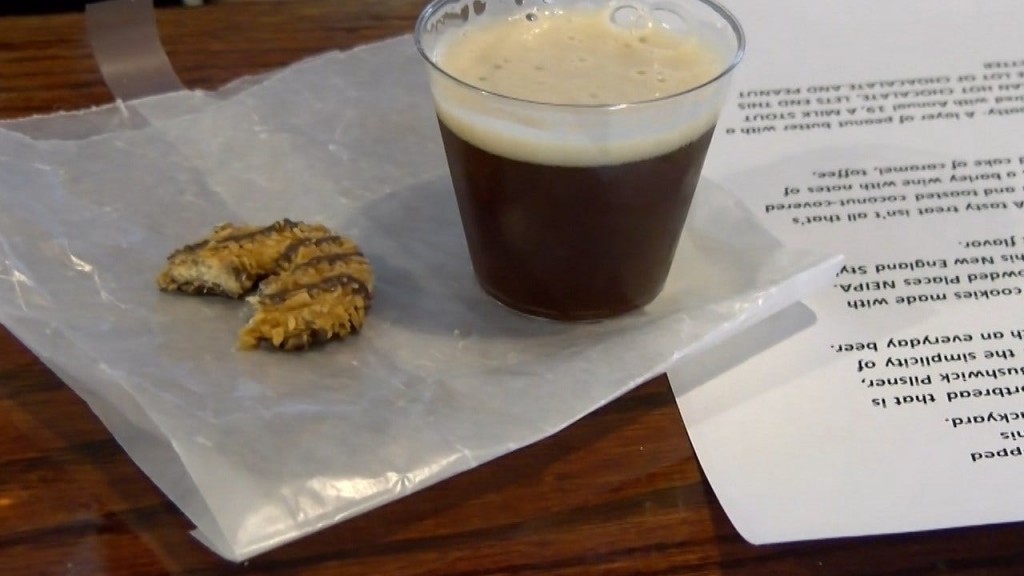 By: Tim Studebaker
Facebook: @TStudebakerABC6
Twitter: @TStudebakerABC6
Email: tstudebaker@abc6.com
NEWPORT, R.I. (WLNE) – This Valentines weekend, Newport Craft Brewing and Distilling wants you to forget about the classic combination of wine and cheese, and come explore some new combinations instead. As part of Newport's Winter Festival, they're pairing their beers with Girl Scout cookies.
The brewery's Chief Operating Officer James Rodrigues says, "It helps support local, which we're all about. And you know, we made some girl very happy with sales of her cookies. I think we bought about 600 boxes."
The pairings were chosen by the brewery's staff.
Brewer Luke Gerweck says, "You know, it's a really hard process doing a vertical tasting of all your beers and figuring out which cookies go best with them. That was definitely a great morning to be part of the team."
Gerweck walked us through the pairings, "So starting out we have our blueberry ale with the Lemonades. Think about this as a delicious blueberry lemonade on a hot summer day. Next up, we have the Bushwick Pilsner with the Shortbreads. After that, we have the Thin Mints with the Crowded Places. The fourth one we have is our Three Ring Circus English Barleywine with the Caramel Delites. The last one we have here is our annual "19" with the Peanut Butter Patties. Lots of chocolate because dessert's the best."
Naomey and George Chedid are visiting from New Jersey for the weekend. They decided to stop in when they saw the pairing event online. Naomey Chedid says, "We tried the lemon one and it actually tastes so good with the beer, but my favorite is the Samoa so we'll see how that goes."
Next weekend, the brewery is pairing their beers with cheese.
To learn more, visit their events page: https://newportcraft.com/event-directory
© WLNE-TV / ABC6 2020