Newport Man Among Those Rescued Off of Ireland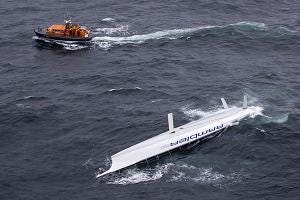 HARTFORD, Conn. (AP) – Yachting race officials say 21 crew members of a capsized vessel who were rescued off the coast of Ireland included the former chairman of United Technologies Corp.
Officials of the Rolex Fastnet Race say on the event's website that George David's 100-foot yacht, the Rambler 100, capsized in the Celtic Sea on Monday evening after its keel broke.
David, who lives in Connecticut, and his partner, Wendy Touton, were among five people swept out to sea. The others managed to hang onto the hull.
Race officials say David and Touton were in the water for 2 1/2 hours. Touton was treated for hypothermia.
Mick Harvey, a veteran sailor from Australia who now lives in Newport, R.I., also was among the crew.
United Technologies is based in Hartford.
Copyright 2011 by The Associated Press. All Rights Reserved.