Newport police identify officers involved in altercation caught on video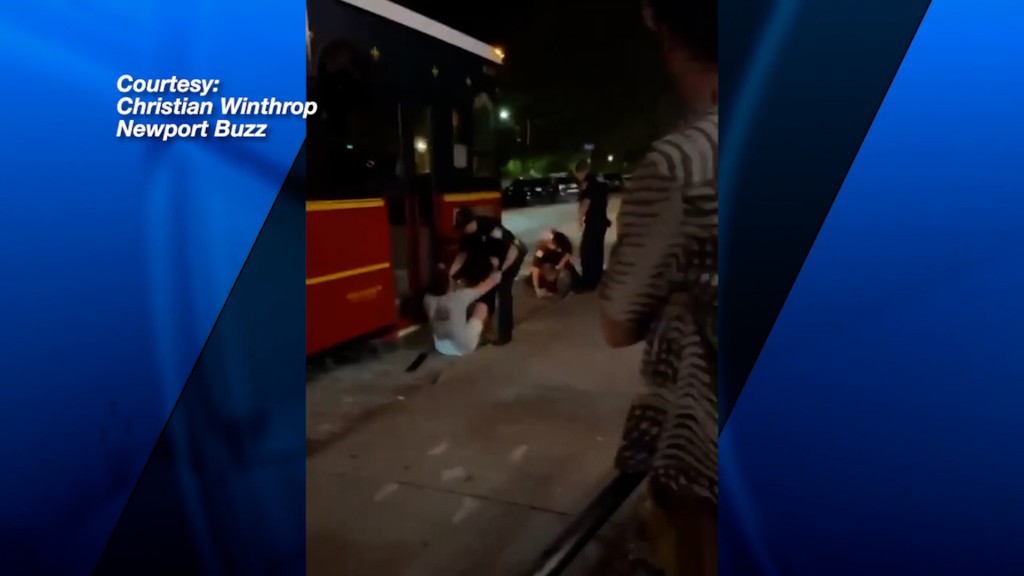 NEWPORT, R.I. (WLNE) — Newport police on Wednesday identified the officers who were involved in an altercation that was caught on video over the weekend.
The incident happened just before 1:30 a.m. Sunday on Thames and Green streets.
Police said Officer John Sullivan was patrolling a crowd outside a bar that was closing in that area. That's when the officer saw Dennis Engleson "forcefully throwing a silicone bar mat towards persons walking down the sidewalk."
Engleson, who's 22 years old, was seen throwing it at pedestrians several times.
The officer then asked "Engelson and his other friends to leave the area immediately."
Lt. April Amaral said the 22-year-old started to leave but kept yelling at Sullivan and then picked up the mat again.
Sullivan asked "Engelson five separate times to leave the area but he continued to yell and act belligerently."
Amaral said Sullivan made the decision to arrest Engelson for disorderly conduct.
"Engelson implied he was not going to be arrested and turned away from the officers' direction," said Amaral. The 22-year-old is accused of resisting arrest.
The lieutenant said other officers were shortly after called to the scene.
"Officer Neil Sullivan responded to assist, while Detective Patrick Walsh arrived on scene for crowd control," said police.
During this time, a second man, identified as 22-year-old Christopher Adams, tried to interfere, "affecting Engelson's arrest."
According to a police report, that's when Walsh was "startled" to see Adams behind John and Neil Sullivan while still dealing with Engelson. Use of force was used to secure Adams.
He "was brought to the ground for obstructing the two officers who were actively arresting Engelson," the lieutenant said.
Adams was charged with obstruction and resisting arrest.
No further information was immediately released.