Newport prepares for annual St. Patrick's Day parade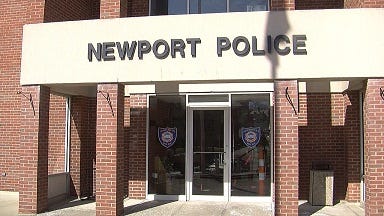 By: Alexandra Cowley
Last minute preps in Newport as the city and police gear up for its annual St. Patrick's Day Parade. Thousands of people will descend on the city for the festivities, which kick off Friday night. Expect a lot more eyes on you this year because of a new App police are hoping will curb rowdiness.
The App is called Viz-safe. It's free and allows anyone with a smart phone to report rowdy behavior to police.
For a year, the parade committee and police have been preparing for the St. Patrick's Day parade. Doing everything they can to make the parade more of a family event rather than a drinking event.
Lt. William Fitzgerald says tomorrows parade will be the test of the new app Vizsafe. It allows you to upload pictures and video of any wild behavior. Police will be monitoring it all day.
"If everybody on the parade route has this app they are the eyes and ears of the police department in real time. We have zero tolerance for this type of behavior, unruly behavior, especially for a family event," said Fitzgerald.
Last year police made 68 arrests on parade day. Down from 114 in 2009. They hope this year will be even less, by adding 30 extra patrols in uniform and plain clothes.
"We're hoping for a very quiet fun event," Fitzgerald said.
Local bars play a part in controlling the crowds too. Pat Regan is co–owner of O'brien's Pub. With its prime location on Thames Street, they are the spot to party.
"We've been here 35 years, so this is our 35th parade, so we kind of have things down pat," explained Regan.
O'brien's will be tripling staff, ready to check id's and cut people off if they've had too much to drink.
"There's only so much you can do. The volume is so great that you can only control what you can control within our premise, you know it's up to our staff to keep an eye on everything,"said general manager Kerri Philbin.
Rhode Island State police made over 20 DUI arrests over last St. Patricks Day weekend. They'll be out in full force again this weekend.
(C) WLNE-TV 2014