Newport's Cliff Walk reopens, Governor's name misspelled on plaque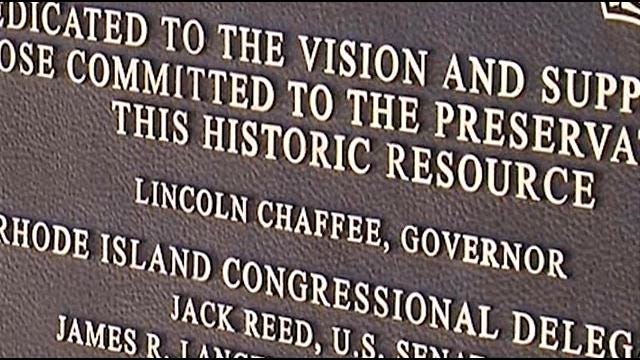 By: Alexandra Cowley
Attention shifting Tuesday, from a ribbon cutting ceremony for the reopening of Newport's Cliff Walk, to a big spelling error on the dedication plaque. The Governor's name was misspelled. Right at the top, Governor Lincoln Chafee is spelled with two "F's" instead of one. The plaque is at the entrance of the Cliff Walk, recognizing the repairs since Hurricane Sandy. The construction company which made the plaque, John Rocchio Corp. of Smithfield, says it will be redone.
Aside from that spelling mishap, the beautiful Cliff Walk in Newport officially reopened Tuesday, 20 months after Hurricane Sandy. It was partially open during construction, and it's now back open. Perfect timing for tourists and residents.
It was a gorgeous day in Newport as state leaders gathered to cut the ribbon on the historic Cliff Walk's reopening. Locals and tourists can now walk 2 of the 3 and a half miles along the coast. A section of it, near the Miramar Property, is scheduled to reopen next month.
"It's just amazing how many members of the public have access to such gorgeous real estate, it just doesn't get any better," said Governor Chafee at the ceremony.
Newport's Cliff Walk was beaten and bruised by Hurricane Sandy in 2012, leaving gaping holes in the breathtaking cliffs.
"When Sandy hit and knocked out significant sections of it, it had been closed off," said Michael Lewis, RIDOT Director.
Work was already being done on the cliff before Sandy to restore it, and the storm gave the state a reason to make it even better.
Senate President Teresa Paiva Weed said, "After the hurricane when the significant damage was done, the city and the state looked at that as an opportunity to do far more extensive repairs and longer lasting repairs."
It cost about 5 million dollars in federal funds to make the necessary repairs. New restrooms were also added at the entrance.
"We were very fortunate to be eligible for emergency relief funds because quite frankly there wasn't another source to do these repairs," Lewis said.
It's now ready for the estimated 700–thousand people who travel it each year.
(C) WLNE-TV 2014