Newtown Student Runs In Providence Meet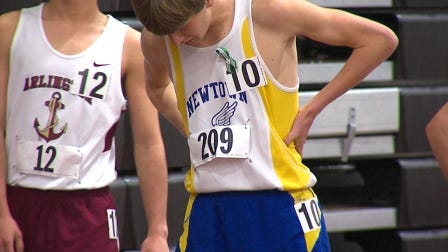 By Matt Blanchette
The fourth annual RI Classic Track & Field Invitational went off without a hitch today in Providence despite the snow.
Jake Feinstein is a senior from Newtown, Connecticut whose mother is a teacher at Sandy Hook Elementary, the sight of the shooting tragedy a month ago.
He committed to be in this race and held his
commitment, finishing 3rd in the mile.
He also committed to run at Providence College next
fall.
In other action LaSalle holds off Hendricken in the
medley relay.
There were 1,800 competitors in the event.
Coventry's Larry Warwick takes third in the long jump.
He was over 20 feet all day.
Chariho star Bryce Kelly was at it again.. He sets a
meet record in the 800 with a time of 1:56.94.